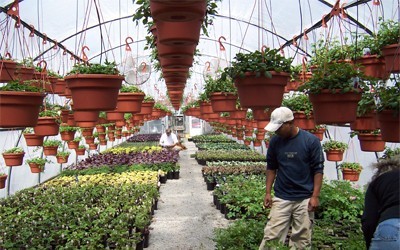 Welcome to Bloomers Garden Center!
Bloomers Garden Center, located at 1110 N Park St in Carrollton, Georgia, although smaller in acreage than our plant farm Triple Creek, carries all the great plants the Farm grows, and much more. Outside the Gazebo gift shop you'll find wonderful statuary and garden décor for your home. The Gazebo porch shows off houseplants and tropical plants and inside you'll find garden related gift and décor items, gardening hand tools, fertilizer, birding items and lots of other fun things. So come on in!
Special Events You Don't Want To Miss!
We at Bloomers and Triple Creek Flower Farm love to put on all kinds of special events, from our Spring and Fall Open House at Bloomers to the great Gardening Workshops at both locations. There's something for everyone and our events inform and entertain people of all ages.