Low Maintenance Container Gardens
If you don't have much time to spend maintaining and caring for a container garden consider using xeriscape plants (drought tolerant) in you design. There are hundreds if not thousands of varieties of cactus and succulent plants (cactus are actually succulents) you can use in your design. Though some succulents will flower, most are known for their unique foliage colors and characteristics. These low-maintenance plants will require little if any watering or care. Simply provide a well-drained pot filled with a loose, sandy soil and you're ready to go. Then add plants and maybe some rocks or shells to dress it up.
Here's a list of a few favorite annual and perennial succulent plants that are readily available at nursery and garden centers:
Hen and Chicks - These perennials are perhaps my favorite. There are numerous varieties on the market in a range of foliage colors. Cobweb, Black and Jade Rose are a few favorites.
Sedums - There are low-growing, spreading and a few upright varieties of sedum. These come in a range of foliage colors and textures and many produce flowers during the summer or fall. Angelina, Coral Reef, Tricolor and Blue Spruce are a few of my favorites.
Agave - Native to the Southwest US and commonly known as The Century Plant, Agave is a great centerpiece in larger containers.
Prickly Pear Cactus - A unique cold hardy cactus that come spineless or with spines, the Prickly Pear and is great for larger containers.
Yucca - Similar in appearance to agave, yucca are somewhat smaller in size and are perfect as an upright grassy accent in larger containers. Color Guard and Red Yucca are my favorites.
Purslane & Portulaca - These are annual flowering succulents that trail so will spill over the edges of containers. Yubi Portulaca is one of my favorites.
There are hundreds of other unique varieties of succulents to choose from. Check with your local nursery and garden center to see what they have to offer.
Other Container Garden Design Tips
How many plants?
Almost no two types of plants grow to the same size. Keep in mind that healthy plants grow, so you don't want to overcrowd your container with too many plants. Doing so can cause some serious competition among the roots for soil space, and you might end up spending your entire summer watering, watering, and more watering! So, you want to match plants to the size of your container.
When deciding how many plants it will take to fill your specific size container garden you'll need to know how large the plants grow. To know the average mature size of any particular plant you can do some research in advance online (such as in the Plant Files here in Gardenality) or you can visit your local nursery and garden center and simply check out the labels on the plants you like.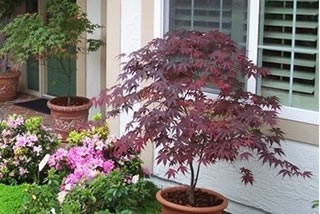 Arrangement of plants
When arranging the plants in your container garden take note of the mature height they will grow. If the garden will be viewed from all sides, place taller plants toward the center of the container and lower growers around the edge. If it will be viewed from only one angle, such as a pot that will be situated against a wall, plant taller growing plants towards the back and lower growers towards the front.
Many gardeners like to use an evergreen shrub or some type of small tree as the centerpiece in a container garden. I like using conical or global shape evergreen conifers and Japanese maples as centerpieces. Keep in mind that if you want to keep these shrubs or trees growing in the same container for a number of years that it's best to start out with a larger container which will provide enough space for the roots over the long term.
Here's a sample container flower garden design I did that might be a helpful guide when designing your own gardens.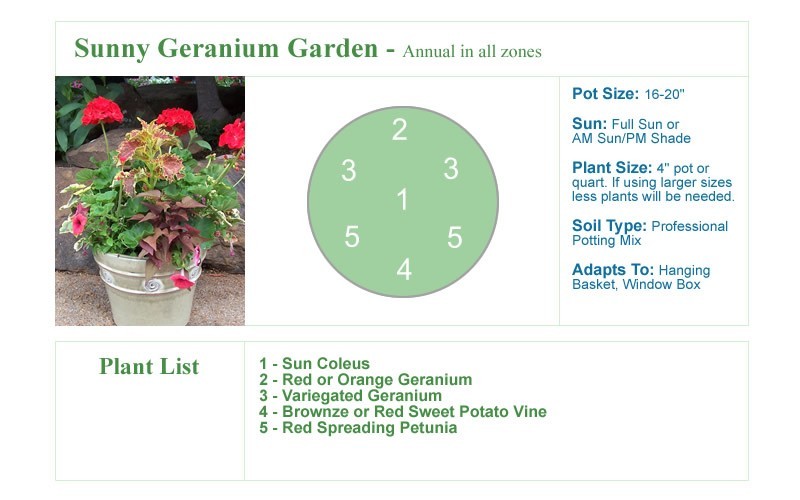 Hope this article was helpful. Enjoy your container gardening design!