---
NOTE: Information in Gardenality Articles are provided by many different people. While the authors of these pages may or may not try to keep them accurate and up-to-date, Gardenality cannot guarantee that they always will be. Unless otherwise noted, the information in any specific Gardenality Article does not represent official statements or views of Gardenality. Any links to external websites found in a Gardenality Article should not be construed as an endorsement by Gardenality of the content or views of the linked materials.
---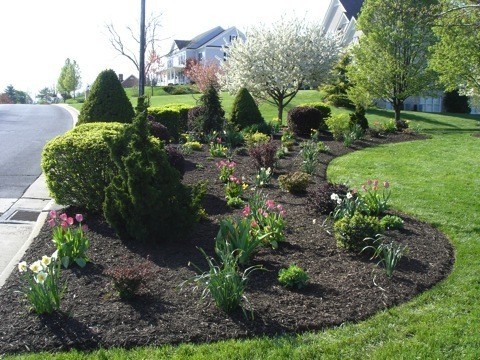 Rubber mulch made from recycled car, truck, and trailer tires is a safe and attractive alternative to wood mulch in landscaping. After the steel portions of the tires are removed, they may be shredded. Alternatively, when retreading tires, the worn-down tread may be removed prior to retreading and converted into 'pebbles'.
Rubber mulch in bulk can be very attractive allowing landscapers and home gardeners the opportunity to vary their landscaping options to highlight various plants and sites in your yard. Different colors of mulch are available. Of course, there's black, but the wood-colored pieces remind you strongly of wood mulch—then you can get different colors such as grass green, blue, or red. Why not use bulk rubber mulch to provide safety for a playground in the team colors of your favorite football, basketball, or baseball team? The colors stay true year-round and will not bleach in the sun.
Bulk rubber mulch is resilient to help prevent playground accidents from having severe effects. There are depths of mulch that can cushion falls from various heights as recommended by the manufacturer. Best Rubber Mulch, the manufacturer, can help determine optimum fall zone depths for safety in playgrounds. For example, a four-inch depth of rubber mulch can help deter injuries from fall of up to six feet whereas it takes an eight-inch depth of wood mulch to do the same job.
Furthermore, rubber mulch has been declared environmentally acceptable as landscape mulch, because water filters through to the soil beneath with no contaminants. The Environmental Protection Agency has approved bulk rubber mulch for application both on playgrounds and as landscaping mulch. Shredded rubber can be ideal for large landscape areas. It has the advantage, too, of being heavier than wood mulch so water doesn't wash the material away and wind doesn't lift the mulch. This reduces the ultimate cost because the rubber mulch never decomposes and seldom erodes. Think about how much less time and money would be spent on landscaping if replacement of the mulch periodically were not a necessity.
Finally, the fact that rubber mulch in bulk takes a commodity such as used tires and puts it to use in an attractive, safe way that removes tires from land fills to a useful life elsewhere makes an important environmental impact. Use of bulk rubber mulch from recycled tires is one small way we can improve our earth as well as add good looks and safety to our yards. Purchasing this material in bulk helps keep the costs affordable. Grants and subsidies can be found for areas of public use.