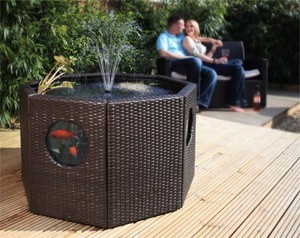 In 2011, I and my brother were at a nursery and garden center industry show in Las Vegas, Nevada when I ran across the Affinity Garden Ponds. I knew from the instant we saw these ponds that, if the quality was there, this was going to be a very popular and new way to water garden. We were extremely impressed with the entire concept that allows just about anyone to install a water garden in just minutes...indoors or outdoors. with plants, fish, fountains, night lighting and a waterfall. and with the founders of the company who designed and created these exceptionally stylish and durable above ground ponds.
See how quick and easy it is to build an Affinity Pond >
The idea for the Affinity Garden Pond grew from a four year development strategy by Interpet Ltd UK, a leading British water gardening company, who saw the need for an alternative to traditional ponds. We talked to the actual designers and it was obvious that these guys were some serious water gardeners. It was also obvious that the development team thought long and hard about how they could introduce something new to water gardening which took into consideration what a consumer would really enjoy and need. They hit the nail on the head by coming up with a quick, simple, interesting, stylish, and engaging garden pond that opens up the joy of water gardening to thousands if not millions of folks who, if they had to dig, would otherwise have never taken it upon themselves to build a garden pond.
Therefore Affinity took a sidestep from traditional "in-ground" ponds and introduced the above-ground 'Living Feature Ponds'. The patent pending design offers a "new view" on water gardening, allowing the owner to connect with their aquatic life and see their fish from a fun new angle.
Click here to see the Affinity Pond in action
The look...
The first thing that caught my attention was the look of these ponds. Elegant design and features suit all styles and sizes of gardens or interiors. Yes, these ponds can be installed indoors or outdoors. The exterior is made from a very handsome and stylish PE Rattan that will fit in in almost any setting. But is was the windows and the goldfish peeking out that really got me...and obviously everyone else at the show. The kids were going crazy over it!
Another great looking feature is the the automatic LED lighting, which illuminates the pond for night time enjoyment and year round interest, even between November and March when little is happening in most gardens.
Overall, the Affinity pond looks simple but don't let that fool you. They bring together the very best in traditional water features coupled with the latest in new technology to embrace a full life support system in one stunning product.
Versatility...
The Affinity ponds work equally as well indoors or out. I chose to put mine on my back deck, where our family spends most of it's time when outdoors. I also have a traditional in-ground garden pond in the back yard and can say the Affinity above-ground pond requires much less time and effort to maintain.
The Affinity Octagon Pond can be run outdoors year round in most areas of the USA where temperatures don't fall below 15 degrees F for more than a day or so at a time. Yes, the pond can freeze, even the fountain, with no damage to the pond. As long as the pump continues to run your fish will stay alive! For those who live in colder climates you can purchase a pond heater to keep the water and your fish from freezing.
The Affinity ponds are available in three different shapes that each lend themselves to different applications. I chose the 'Half Moon' model, which is perfect for using against a wall. The 'Octagon' is perfect as a center piece on a back deck or other outdoor area. The 'Pillar' is a taller pond that has a columnar square shape and can be situated against a wall or as a centerpiece.


Easy installation...
After all the years in the landscape business, and the toll it has taken on the knees, my digging days are over. If the thought of digging a monster hole has turned you off from your desire to have a garden pond, well...you can forget about having to dig a hole! There's no need for a shovel with these above ground ponds. All you need is a screwdriver, a flat stable surface, and about 1/2 to 1 hour to put the pond together. I took my time putting it together and it took about 45 minutes.
The pond came with a InPond All-in-One Filtration and Fountain system which only took minutes to hook up. This system is a very reliable complete 'Life Support System' for successfully keeping fish...making it easy even for the novice.
All-in-all, the ease of installation is remarkable. In just minutes you can go from having nothing to enjoying a full-featured garden pond with waterfall, fountain, plants and fish!
Durability...
Every aspect, from its shatter proof PVC windows, fibre reinforced liner, rust-proof aluminium frame, right through to the All-in-One low voltage pump, filter, UVC and lighting, has all been designed specifically for long term durability and easy set up and maintenance. The end result is a simple complete kit that can be erected anywhere in an hour, ready to transform a home or property.
Kids love it!...
Both my grandkids and my chihuahua kids love it! My grandkids will spend hours of the day staring at the goldfish who come to peek out the windows at them. We can't keep the kids away from it at our nursery and garden center. The windows definitely provide a unique way to interact with the fish.
Regarding safety, Affinity ponds are very safe for families with young children. I suppose its possible that someone could drown in an Affinity pond but there's not near the danger of children falling in, much less hitting their heads on large rocks or boulders on the way down. The manufacturer has yet to report any serious injuries related to the use of the Affinity ponds.
In conclusion...
In my opinion, and as an Affinity Pond owner, I can confidently say that the developers have done an outstanding job introducing a revolutionary new product. They really put thought into everything that the consumer would want and need in a water feature. The complete kits come with everything needed to build the the pond, as well as a planting basket, three fountain displays, a window cleaning pad and additional polymer wool filter pad.
So, where can you buy one of these amazing ponds?
Online
You can find more details and buy Affinity Garden Ponds online at GardenerDirect.com
On land
Land-based nursery and garden centers, pond stores, and other retailers throughout the US are now offering Affinity Ponds. Check with your local retailer to see if they are stocking them. If not, see if they can order one for you.