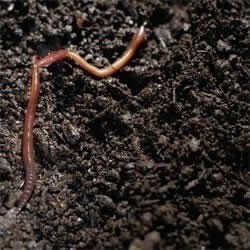 Over the past 30 years of landscaping and gardening, the most important thing that I've learned about growing healthy plants is that it begins with healthy soil. We can provide the right amount of sunshine, water and fertilizer but if a plant is not growing in healthy soil the plant itself will not be as healthy.
What Are Worm Castings?
Worm castings are the material deposited by the earthworm after organic material passes through the digestive track of the worm. Essentially, we can call it "worm manure." Worm castings are organic, nontoxic, and odorless and can be used as a high-power fertilizer on just about any plant in the garden!
Worm castings are a product manufactured by Mother Natures best soil tillers on Earth: the earthworm. Earthworms are fed and digest organic material. In its passage through the worm this organic material is beneficially altered both chemically and physically. The end product is an extremely powerful and fertile organic "super humus / organic fertilizer." This humus contains all the elements and nutrients required of the earth for optimum plant nutrition and optimum growth.
Why Use Worm Castings?
With the exception of water and sunlight, nothing could be more natural for your garden than earthworm castings. Not steer manure, not chicken manure, not even fish emulsion is as natural for your garden as earthworm castings! After all, when digging in your garden have you ever found a live cow, chicken, or fish? No, what you do find are live worms.
Mother Nature created the mighty worm about 570 million years ago to care for her plant life by caring for the soil both by tilling it and by adding the essential nutrients plants need to be their healthiest. As the earthworm eats its way through the soil, it takes in bits of soil and rotting or decaying plants (organic matter). Then, what comes out is the richest food your plants will ever find, yet will not burn a plant!
Earthworms have the unique ability to increase the amount of nutrients and minerals in the soil by as much as 10 times the value of the plant debris there. These minerals and nutrients are properly conditioned for the best root growth and lush plant growth - plus it's odor free. Because it increases the complexity and diversity of organisms in the root zone, worm castings build plants immune systems helping to fight diseases and pests. It's hard to believe those skinny, unattractive worms can do all that! But, they do.
If you are interested in reducing your dependence on chemicals, lowering your cost of production and increasing yields of vegetables and flowers, then you need to use worm castings.
Worm castings contain rich, balanced proportions of water-soluble nutrients. This is a primary reason they are able to quickly provide incredible results to plants. Because they are 100% natural and organic, worm castings allow plants to quickly and easily absorb all essential nutrients and trace elements in simple forms, so plants need only minimal effort to obtain them.
Over 60 micro nutrients and trace minerals are found in worm castings, along with high numbers of beneficial microbes and bacteria that help to improve overall crumb structure and soil quality. These microscopic creatures help different elements of the soil work in conjunction with each other to create healthy, working soil that provides the best possible atmosphere for optimum plant growth. These miniature particles also improve aeration in the soil, promoting rapid plant growth. Castings allow oxygen to permeate and remain in the root zone where it is vitally needed. They allow for excellent drainage in soil so roots don't become waterlogged or develop root rot, while also increasing the soil's water retention capacity as they contain absorbent organic matter that holds only the necessary amounts of water needed by the roots and their shape allows unnecessary water to easily drain.
Worm castings are also an effective way to repel harmful insects such as white flies, aphids and spider mites & any pest that feeds on plant juices. According to recent studies, applying worm castings to the soil around your plants increases the production of a certain enzyme that is offensive to these insects. You might notice that in gardens where there are many earthworms present in the soil there are fewer problems if any with harmful insects.
This is not the case with synthetic fertilizers.
Chemical fertilizers usually provide only available synthetic nutrients, much of which are quickly lost into the soil with watering, as a plants' root system can only absorb so much of the synthetic. Synthetic chemical fertilizers are most often detrimental to soil microbiology, by-passing and often destroying much of its beneficial microbial and bacterial activity. At the same time, many of these synthetic nutrients are absorbed into your plants and food. Chemical fertilizers and pesticides used in both farms and gardens have become our country's leading cause of water pollution.
How To Use Worm Castings
Used as a fertilizer or soil amendment, in raw form or as a compost tea, earthworm castings are an all purpose natural fertilizer that comes to you straight from nature with no alterations whatsoever. Because it is natural, worm castings allow plants to feed as needed for weeks and months at time, depending on the plant.
Soil Amendment - When planting new plants in garden beds top-dress the soil in the garden with a 1/2 inch layer of worm castings. When you water the nutrients filter down to the roots of your plants.
Soil Amendment In Container Gardens - For potted plants use about 1/3 castings to 2/3 potting soil.
Fertilizer / Plant Food - Side dressing row crops in your vegetable garden is one of the best ways to apply worm castings. You can just place a 1/4 inch or so of it right along side your plants at their base.
Used As Compost Tea - Click here for instructions for making worm casting tea for use as liquid plant food.
Why Are Worm Castings So Expensive?
They are not expensive! While synthetic fertilizers must be used in copious amounts and still don't work that effectively, worm castings are very concentrated, containing natural nutrients, elements, microbes and bacteria that are 100% available to plants. When manufacturing worm castings it is very interesting to see how you can keep putting food scraps and other raw organic matter in a worm box for weeks and it never fills up. The worms are great at turning heaps and heaps of scraps into a tiny pile of castings. What you end up with is a highly concentrated, powerful organic fertilizer that blows away any synthetic fertilizer on the market.
The simple fact is that worm castings are created by nature for the purpose of promoting optimum plant growth and everything required to provide it, is found in them. When you concentrate this odorless, non-burning miracle of nature in greater concentrations than usually found in nature, the results are truly spectacular.
If you are interested in trying earthworm castings you can find this amazing fertilizer at GardenerDirect.com