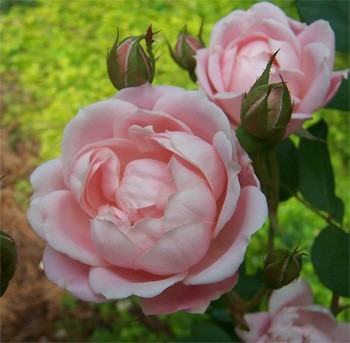 From Wilson Bros. Nursery in McDonough, Georgia, comes The Georgia Peach™ Shrub Rose!
SEE UPDATE AT BOTTOM OF ARTICLE
In Fall of 2010, when Georgia resident and gardener Beth Steele showed the Wilson brothers a double flowering, peachy-pink colored ever-blooming shrub rose, and how it was just as disease resistant as any of the other disease-free shrub roses she grows in her garden, they became very excited. The brothers immediately took a cutting from the rose to a grower friend of theirs and by spring of 2011 they planted the first rooted cutting of the Georgia Peach™ Rose in their trial garden. The rose quickly filled out and sent up its first flush of blooms. Sure enough, they found a double flowering pastel peachy-salmon color rose like they'd never seen before. What's more, it had a fruity fragrance to match the name they'd given it!
The Wilson brothers closely observed the rose bush through 2011. Not only did they find the Georgia Peach™ Shrub Rose to be a floriferous beauty, they also found it to be totally disease resistant, standing up to all the competition regarding total resistance to black spot and powdery mildew in USDA Zone 8, where summers are extremely warm and humid. No disease of any kind was observed during the active growth season of 2011. It also demonstrated good resistance to insects, though the deer did nibble off some of the buds now and then.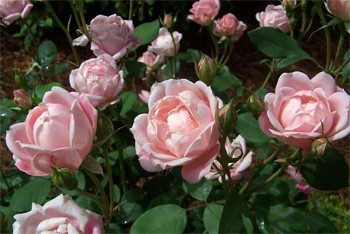 In late winter of 2012, after having propagated several hundred roses, the Wilson brothers decided to release the Georgia Peach™ Shrub Rose. It is now available for purchase online at GardenerDirect.com and will be available at Wilson Bros. Nursery land-based location in McDonough, Georgia beginning March 1, 2012.
The Georgia Peach™ Shrub Rose produces an abundance of pastel peachy-pink colored blooms which measure 3 to 4 inches across when fully open. The buds start peach color opening to pinkish-peach blossoms then fading to peach. The abundantly produced blooms are fully double and have a mild fruity fragrance and, unlike the Knock Out Rose, are excellent for cutting. The shrub has an upright rounded growth habitat. It grew to about 3.5 feet tall with an equal spread during the first season and has maintained a similar size as of late April in 2012. Leaves are medium green with absolutely no disease!
UPDATE: November 2013
The Georgia Peach Rose continues to amaze us. While most other roses in our Georgia trial gardens have begun to enter dormancy and aren't blooming much, the Georgia Peach is blooming its socks off! And this is after the rainiest summer on record. We have yet to see any disease show up on this rose and were amazed this past summer when aphids visited the plants for a short while but did no damage to plants! Just more reasons why the Georgia Peach™ Shrub Rose is a must have low-maintenance flowering beauty for every Georgia garden...and in gardens throughout zones 5-9 in the U.S.. You can purchase the Georgia Peach Rose online at GardenerDirect.com.
UPDATE: May 2014
After the rainiest Georgia summer on record in 2013 followed by a wet winter and Arctic, 5 degree temperatures in January 2014, we're happy to say that the original Georgia Peach Rose in the Wilson Bros Nursery Trial Gardens is doing better than ever! Still no disease or any insect problems.
Click here for more details and care tips for the Georgia Peach™ Shrub Rose