Do you know the right way to plant a particular type plant, feed it, or prune it? If so, you can share your experience and knowledge about any particular type of plant on its Gardenality Plant File.
Note: To publish a comment on a Plant File you must be a member of Gardenality.
---
How To Make A Comment On A Plant File
---
Follow these instructions:
1 - When in a Plant File, click on the green tab that matches the comment you want to make (see screenshot below). In the illustration below, "Planting" has been selected. When selected, the following message appears beneath the tabs:
"Do you know how to plant Canyon Creek Abelia?
Share Your Gardening Knowledge & Experience »"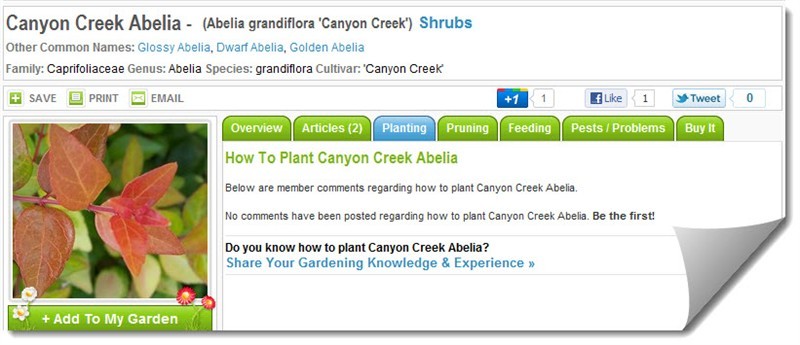 2 - Then click on the "Share Your Gardening Knowledge & Experience" link and an elongated horizontal box will appear where you can type in your comment. (See screenshot below)

3 - When you place your cursor in this comment box a question will appear just below the box that asks: "What type of comment are you making?" (See screenshot below) Click on the down arrow and a drop down menu will appear. In this case, you would select "Comment About Planting"

4 - Then you just type your comment in the box. When done, click on the green "Comment>>" button to publish it. If you see that you made a typo or some other mistake there's an "Edit" link right below your comment.