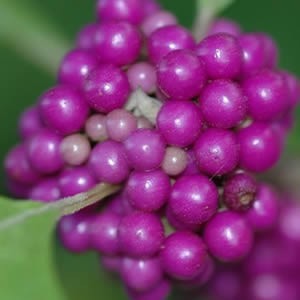 American Beautyberry
Callicarpa americana
The name says it all. The thing about beautyberry is its berries. And they are beautiful. Though these shrubs produce tiny pinkish-white flowers on low, arching branches in late summer, these insignificant and rather nondescript flowers give little hint of the display to come. The prize arrives in September and October, when clusters of deep lilac fruit form in abundance.
These berries are one of the most startling purples in nature, a kind of luminescent lavender. Brought forth in dense, showy clusters that surround the stems, each of the berries is only about a quarter inch in diameter. In zone 8's mild climate, the berries often persist into winter. Hungry birds sometimes eat them but never really strip the shrub clean.
Beautyberry is a hardy deciduous plant that flourishes in the right setting. Moisture-loving, it does its best in fertile loam and can even endure wet feet. Once well established, however, it is adaptable enough to handle drought.
The plant tolerates full sun well, blooming and fruiting best when it receives at least four to five hours of sunlight and bright, filtered shade the remainder of the day. Although it will grow in shade, it won't produce the flowers and fruit.
Since beautyberry flowers and fruits on new wood, it looks best with yearly pruning. You can easily cut branches for Thanksgiving arrangements and, if the berries are still clinging, cut some more for Christmas displays. After that, if you want to keep the shrub at a lower height, in late winter or early spring, cut the remaining branches back to 4 or 5 inches above the ground. If you want it to grow to it's natural height of 6 to 8 feet tall, leave it alone. Keep in mind though that some pruning will stimulate branching, which means more flower and berry production the following year.
Too often, gardeners want colorful spring and summer displays. But in fall and winter, when most everything else is fading and going to seed, sturdy plants with berries are especially welcome, and beautyberry is definitely on the A-list!
Modern Shrub Roses
When people think of fall, many don't think about roses. But roses are great for adding fall color to your landscape...especially the modern shrub roses such as the Knock Out Roses and the lower growing Drift Roses. With the arrival of cooler weather in fall, these two types of roses will put out flushes of blooms that rival their spring bloom.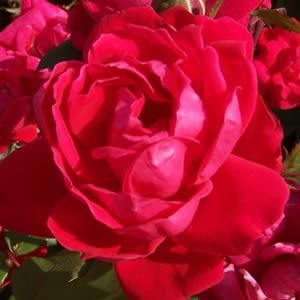 Knock Out Roses - Today The Knock Out Rose is the most widely sold rose in North America. They are easy to grow and do not require special care. They are the most disease resistant rose on the market. Well, the Drift Roses are showing equal strength in disease resistance. They have stunning flower power with a generous bloom cycle (about every 5-6 weeks) that starts in Spring and will continue until the first hard frost. All of the Knock Out Roses are self-cleaning so there is no need to deadhead unless you just want to. Many gardeners find pruning therapeutic. Knock OutRoses, such as the 'Double Red' (pictured right) can fit into any landscape. Plant them individually among shrubs, annuals and perennials in mixed beds and borders. Plant them in large groups to create a colorful mass or in straight or curved rows to form a low-maintenance hedge. Typically, most higher maintenance, disease-prone roses aren't suitable for planting in front of the home, but Knock Out Roses hold up so well there isn't a problem with using them as colorful accents in foundation plantings.
---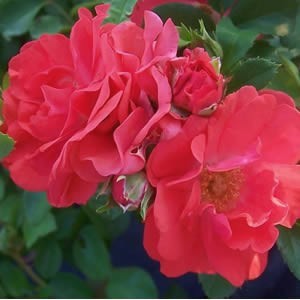 Drift Dwarf Roses - From the introducers of The Knock Out Family of Roses, comes the next big, but littler, thing for small gardens. Like The Knock Out Family of Roses, Drift Roses are repeat-bloomers that are tough, disease resistant, winter hardy and virtually maintenance-free. Drift Roses are a cross between full-size groundcover roses and miniature roses. From the former they kept toughness, disease resistance and winter hardiness. From the miniatures, they inherited their well-managed size and repeat-blooming nature. Continuously blooming from spring to frost, they are naturally dwarf, with very attractive foliage. They are winter hardy to zone 4 and thrive all the way down to zone 11. In our trial gardens, ALL of the varieties of Drift Roses are performing marvelously in our trail gardens!
---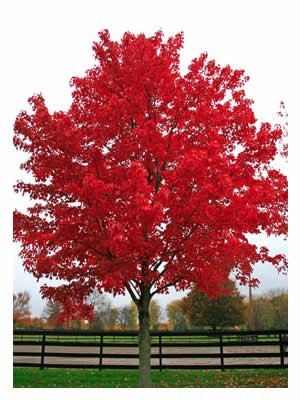 Trees for Fall Color
Summer Red Maple - This red maple produces new red growth throughout the warm season and all the foliage turns red in fall!
Brandywine Maple - This maple tree produces a deep burgundy wine-red foliage in fall.
October Glory Maple (pictured right) - Produces oustanding red foliage in fall.
Autumn Blaze Maple - The fastest growing of the hybrid maples producing a fire-red foliage color in fall. Grows 4 times faster than the native red maple!
Southern Sugar Maple - Bred to tolerate the heat in the south this maple produces bright orange fall foliage.
Gingko Tree - No tree produces a brighter yellow fall foliage!
Dawn Redwood - A deciduous conifer that produces brilliant rust-orange foliage in fall.
Bald Cypress - Another fast growing deciduous conifer that produces orange foliage in fall. Grows in wet or dry soils!
Crape Myrtle - The Fuariei Hybrids (Indian names, such as Nathcez, Muskogee, and Sioux) all produce outstanding fall foliage.
Chinese Dogwood - Not only are Chinese dogwoods hardier than the native selections, they produce outstanding long-lasting maroon foliage in fall!
Tulip Poplar - This fast growing beauty produces outstanding yellow fall foliage!