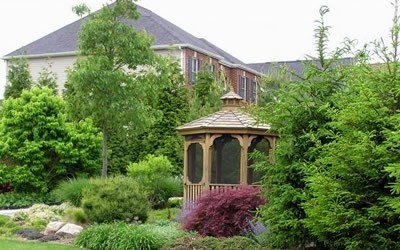 Tired of stepping out the door of your home only to see your neighbors "Sanford & Son Junk Yard" staring you in the face? Or maybe you're looking to buffer wind or the noise coming from a busy road adjacent to your property? If so, it might be time to plant a screen or buffer.
Installing a screen or buffer generally requires the purchase of many plants bought all at once. So, selection of the right plants from the very beginning can make all the difference in how the screen planting performs and whether or not it meets your needs.
The cost of a screen planted with tall growing shrubs or trees is usually less expensive than building a fence or wall, and you can create a much taller visual screen or wind and noise buffer with trees than you can a fence. Many evergreen trees will grow to 30 feet or more in height. Too, we often erect a fence or wall only to then block or cover it with plants and trees!
Before planting your evergreen screen...
Answer these questions to determine the type and varieties of shrubs and trees
Is the planting location in full sun or shade?
How tall will the screen need to create the privacy you want?
Will the area have a formal or relaxed design?
Will the screen planting cover a large area or a small area?
How quickly do you want the screen planting to grow and fill in?
Do you want your screen planting to be low maintenance?
Do you want your screen planting to be evergreen?
---
Designing your evergreen screen...
---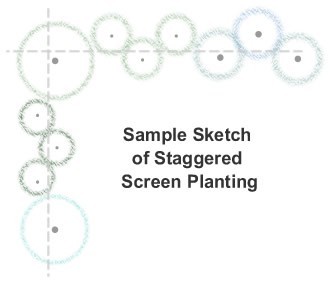 In the past, screen plantings have typically been composed of only one kind of plant or tree. However, though easy to implement, this can create the perfect condition for the rapid spread of disease. A single infected plant may spell demise for an entire row. This is what happened back in the 1980's with the Red Tip Photinia, which had become one of if not the most popular selections for screen plantings in the southern tier of the United States. An incurable leaf spot disease attacked these non-native plants and decimated screen plantings all over the South. For those who had mixed plantings, not all was lost.
So, it's time to learn from our mistakes and implement change. An ideal screen will consist of a variety of plant species. While this may not be the best approach for formal plantings, it is quite suitable for most other landscape styles. Imagine how beautiful a mixed row of conifers, hollies, magnolias, pines and various other evergreen plants and trees would look compared to a straight, boring row of all the same plant or tree.
Sketch: It's best to draw a design on paper to scale. To do that, you'll simply need a 12-inch ruler. Start your design by drawing a sketch (plat) of the area to be screened, making notes about your requirements and preferences for the project.
Spacing: Make sure to space your trees properly! If the mature width of a tree is 10', space trees in the row no closer together than 8'. The same applies for the space between rows. Use a design template with different size circles or a compass to plot the plants or trees on your design. If you don't want to take on doing the design yourself, consult with a reputable, local landscape designer. A screen planting design shouldn't cost much and an experienced designer will know just the right plants and trees to use for your screen planting.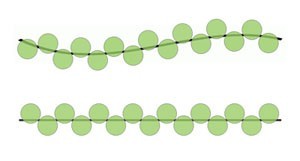 Staggering: Instead of planting one straight row, consider staggering the plants or trees in a straight or curved line of two rows as shown in the diagram to right. Planting your screen in a staggered row makes for a more attractive screen and acts as a better visual, wind, dust and noise buffer.
---
Large Area Screen Plantings
---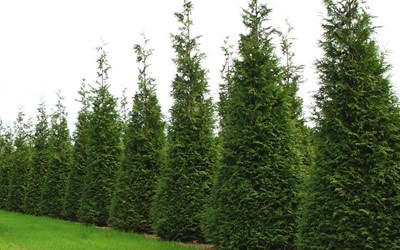 If your plan is to cover a large area, and your intentions are to block an unsightly view, it will be necessary to select larger growing evergeen trees.
Here's some good choices for the South, most of which grow over 20 feet in height.
Arborvitae: Green Giant, Steeplechase (pictured right), Degroot's Spire and others
Bamboo (screen types)
Cedars: Deodara, Eastern Red and others
Cryptomeria: 'Yoshino' or 'Radicans'
Cypress: Carolina Sapphire, Blue Ice, Silver Smoke, Slender Hinoki, Italian, Leyland and others
Holly (tall): Nelli R. Stephens, Fosteri, Mary Nell, Weeping Yaupon and many others
Southern Magnolia: D.D. Blanchard, Bracken Brown Beauty and others
Visual Screens: If you want a visual barrier during winter, it's best to go with evergreen selections, such as conifers, holly and magnolia. Larger growing deciduous trees such as maples, oaks, riverbirch, elms and others, will create visual barrier from spring until the leaves drop in fall. When using deciduous trees in a screen planting I usually back them up with evergreen trees or shrubs.
Noise Buffers: Depending on the type and level of noise, it may be necessary to plant more than a single row of evergreen trees to sufficiently reduce noise to acceptable levels.
Narrow Screens & Buffers: For a narrow space, where depth is limited, narrow, columnar evergreens such as Italian cypress, weeping yaupon, Sky Pencil holly, Degroot's Spire Arborvitae can be useful. Avoid those "super fast growing" poplars and other varieties you see in mail order catalogs. Plants or trees that grow "10 feet a year" fast is usually short-lived.
---
Small Area Screen Plantings
---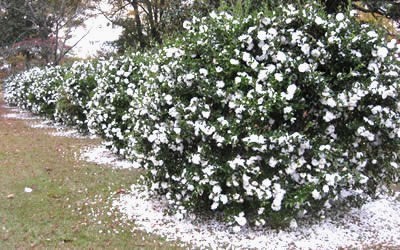 Some screening situations may require less height, such as under powerlines, a divider between houses, a screen for privacy around a pool, screening from the street, or to block off an ugly tool shed or other smaller structure.
Here's some good choices for the South, most of which grow over 10 feet but under 20 feet in height:
Anise - Illicium parviflorum or floridanum
Bamboo (hedge-type)
Camellia (pictured right) - C. sasanqua or C. japonica
Cleyera - Ternstroemia gymnanthera
Holly - 'Needlepoint', 'Burfordi' and others
Junipers - 'Torulosa', 'Hetzi Columnaris', 'Iowa' and others
Ligustrum - L. japonica and L. recurvifolia
Loropetalum - 'ZhuZhou'
Tea Olive - Osmanthus fragrans
Wax Myrtle - Myrica cerifera
Yew (Upright) - Podocarpus
As with larger screen plantings, make sure to space plants properly, preferably in a staggered row pattern.
If you just can't decide what screen plants to use, and how to most effectively place them, consult with your local professional landscape designer. Just be sure to check references whenever working with a contractor!
---
You can buy evergreeen trees for screens, buffers and hedges at GardenerDirect.com
---