You live with your landscape 365 days a year. Fall can be full of color just like Spring!
You can extend the color show in your garden all the way through the fall season by planting a variety of fall blooming perennial plants that will return year after year in your gardens. In addition to plants that provide color in the fall garden with their flowers there are other perennials that provide colorful foliage or seed heads, which also provide food for the birds.
Here's a list of some of my personal favorite fall blooming perennials.
---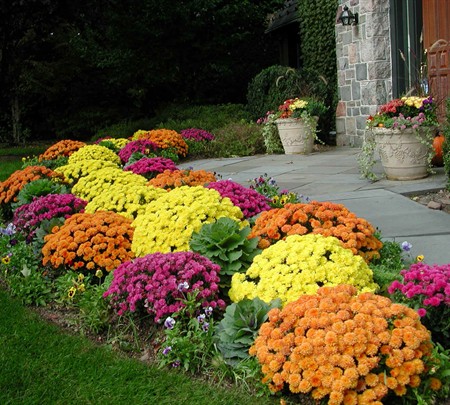 Perennial Garden Mums - For daisy lovers, there's the ever-popular fall garden mums (Chrysanthemum morifolium and Dendranthema). It's hard to find any other family of flowering perennial plants that put on such a spectacular color show in the garden. There are literally hundreds of varieties of mums with flower colors that range from white to yellow, pink, purple, bronze, red and all the hues inbetween. There are several flower-types as well: some have single daisy like blooms with a central eye while others have decorative, double flowers. Others produce pom pom or quilled flowers. Some garden mums are know to bloom early in the Fall while others bloom mid-or late season. By planting several varieties it's easy to extend the bloom season all the way through early winter. Garden mums require a minimum amount of care and do well even under adverse conditions.
---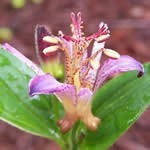 Toad Lily - One of the most interesting fall blooming plants is the toad lily (Trycyrtis). This plant produces clusters of unique, orchid-like flowers covered with purple speckles. It blooms from late September until frost and thrives in partial shade and moist soil.
---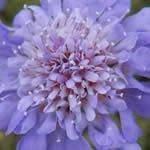 Pincushion Flower - The Pincushion flower (Scabiosa) might just be the longest blooming perennial in existence; sometimes blooming year around in southern gardens. But a long bloom season isn't the only attribute; the pretty blue or pink flowers of up to 3" across resemble a seamstresses pincushion.
---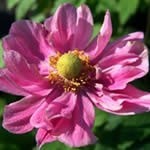 Anemone (Wind Flowers) - The Japanese anemone produce pink or white daisy-like flowers that rise above attractive mounds of foliage on tall, wiry stems that sway with the wind. In fertile, loamy soil these beauties will form quite large patches in the garden. Afternoon shade is preferred in the South.
---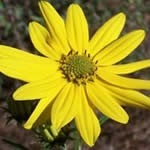 Swamp Sunflower - A distant relative of the annual sunflower, the swamp sunflower will return year after year in your garden to put on its outstanding fall color show. Dependng on the variety, swamp sunflowers can grow anywhere from 4 feet to almost 10 feet in height. Masses of yellow daises are produced through the fall season.
---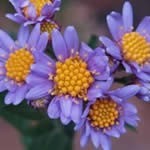 Asters - There are many varieties of fall blooming asters that are useful to provide outstanding color in the garden. 'Woods Pink' and 'Woods Purple' produce a profusion of iridescent purple or pink flowers in Fall while the Japanese Aster (Kalimeris) produce dainty, double white or blue daisy-like flowers.
---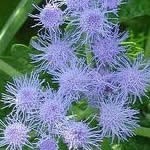 Hardy Ageratum - These hardy perennials produce beautiful masses of small, fluffy, sky-blue flowers that begin opening in early fall clustering in broad, flat, flower heads. The flowers persist through the entire fall season. This native perennial will spread from underground stems and from seed though it is not invasive. Butterflies love it!
---
Autumn Joy Sedum - This particular variety of sedum produces an abundance of cauliflower-like pink flower heads that fade to red atop attractive succulent blue-green foliage. The stems of Autumn Joy turn tawny and the seed heads that persist throughout the winter are a blackish-brown after frost has occurred. So don't cut them back and they'll provide winter interest in the garden.
---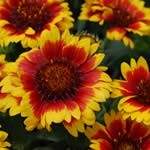 Gaillardia - Also known as "Blanketflower," these floriferous perennials or reseeding annuals have an exceptionally long bloom period. They start blooming in mid- to late- spring and continue all the way to frost! Gaillardias come in an array of colors including shades of yellow, red, and orange and are great fillers in the garden. Many varieties are self-seeding, but not invasive at all.
---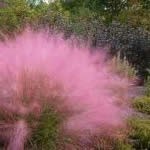 Muhly Grass - An exceptionally drought tolerant ornamental grass that produces clouds of pinkish-purple "flowers" in late summer to early fall that rise above clumps of dark green very fine foliage.
---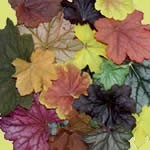 Heuchera - Also known as "Coral Bells," these shade-loving, mounding, perennials are know for their outstanding foliage color. It's hard to think of a place Heuchera won't fit in. They're at home in woodlands, rock gardens, containers, borders and as ground covers. They make wonderful edging plants and really put on a show when planted in groups.
---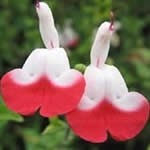 Autumn Sage - Also known as Salvia greggii, these all season bloomers flower abundantly from early summer to frost to providing a bounty of color in the garden. They come in a range of colors from shades of red, to pink, peach, white, rose, fuchsia and more. Maybe even more importantly, the flowers of Autumn Sage are there to feed the hummingbirds their last meal before venturing south of the border.
---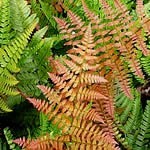 Autumn Fern - This attractive and hardy, shade-loving, evergreen, perennial fern is known for the pretty copper to orange toned new fronds it produces throughout the season. In the garden it prefers morning sun with afternoon shade. In cool season combination container gardens it can be mixed with pansies, violas, heuchera and other cool season annuals and perennials in full sun to part shade.
---
You can buy fall blooming perennial plants at GardenerDirect.com
---