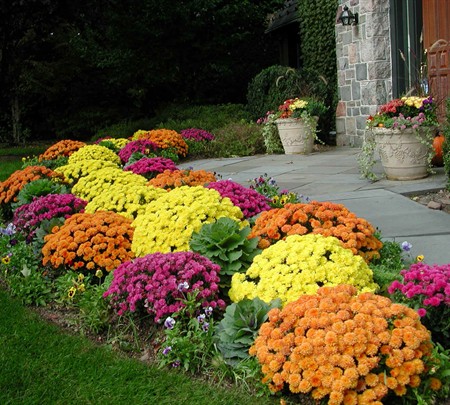 Mums Galore at the Big Box Store!
Here in the Deep South, when it's the "Dog Days of August,"...have you ever seen all the garden mums filling the shelves and in full bloom at the big box stores? If so, maybe you noticed how the flowers are often wilting and turning brown...unless you got there right after the truck delivered them, before the August heat got to them? But go back the next day, or buy and plant some of them in your yard...you'll see how quickly the blooms will melt in the August heat. Better yet, I take that back - DO NOT buy them! August is just too early for buying mums when they're in full flower.
You see, mums are cool-season fall flowering perennials that are not supposed to bloom in the heat of summer. When they do, the flowers quickly fade from the heat. On the other hand, when mums bloom in cool weather, they'll bloom for a month or more.
Why are the mums at the southern big box stores are in full bloom in August? It's because they have them shipped in from cooler regions further north, such as Michigan. Or, in some cases, the box stores buy mums from local growers in the South who force the plants to bloom early. This way stores can get an early start selling them. Either way, no matter what store you're shopping in, avoid purchasing mums in August that are in full bloom. It's okay to purchase and plant "tightly budded" mums in August, but wait to purchase one's that are in bloom until the temperatures have cooled down for the season. Otherwise, if you buy the full-bloomers on impulse, within a few days you'll probably be sorry you did.
So, when is the best time to plant mums in the South?
You can plant mums any time of year in the South. That being said, commercial growers only grow one crop of fall garden mums each year. Growers that supply local nursery and garden centers time their plantings so that the mums will bloom on time.
There are hundreds if not thousands of varieties of perennial garden mums. Some varieties naturally bloom earlier than others starting in September while others bloom later, starting in October. Regarding bloom time, perennial garden mums fall into three basic categories: Early-, Mid-, and Late-season bloomers. If you plant some of each of these you can extend the mum-blooming season and have a bounty of color in your garden throughout the entire fall season!
Many local nursery and garden centers, who offer locally grown mums, begin stocking mums in late summer: late August or so. These are okay to purchase and plant (even in August) but only if the plants are tightly-budded and not in bloom. Then, when cooler weather arrives they'll bloom their socks off...and for much longer!