The Legendary Pomegranate
If Dr. Seuss, or Charlie Sheen for that matter, could take credit for any fruit, it would have to be the pomegranate. Straight out of Whoville, the pomegranate is beyond compare, in a class all it's own, and almost, just almost, beyond description. I suppose that if an apple, overdosing on sweet-tarts, and an onion, drunk on cherry kool-aid, got together in a venus flytrap, at noon...on Sunday, then perhaps, just perhaps, with the help of several generations of genetic mutations, then something remotely resembling a pomegranate might eventually be the outcome. But only if this took place in Tahiti. Or Alabama. Better yet, perhaps the encapsulated, egg sac-filled ovary of a giant, steroid-headed, body-building Tasmanian Devil, subsisting solely on a diet of cranberry jello salad, moonlighting as a mascot for a fertility clinic, and giving new life to the term octamom, then maybe, just maybe. A legendary fruit from the gods, straight from the kingdom of heaven, a hidden treasure, an old miner' s stubborn dream, a literal hand grenade of explosive antioxidant power...ladies and gentlemen, it is my good pleasure to introduce to you - the one, the only, the pomegranate.
---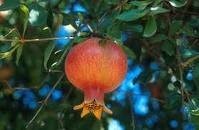 Pomegranates in History
Pomegranate fruit It is interesting to note that the pomegranate, because of it's many ruby-red seeds, has been known throughout history as a symbol of fertility. The medicinal powers of the pomegranate fruit have been mentioned in Greek mythology and the Chinese have referred to the juice as a prescription for longevity. The ancient Egyptians, in their quest for eternal life, were buried with this fruit, and images of pomegranates were woven onto the borders of the robes of the Hebrew priesthood. The Babylonians chewed the seeds before battle in order to make them invincible.
Pomegranate fruit, originally found growing wild throughout the Middle East and Asia, is now mostly grown in India, Africa and the United States. The best place for pomegranate fruit to grow is in hot climate areas. I have a tree growing in my backyard near Atlanta, Georgia and it produces the most beautiful, vibrant-orange blossoms imaginable. Pomegranates are like no other fruit. You can't simply bite into them or peel back the skin. They are much more fun than that and are quite mysterious, borderlining on the sacred. Their purple, leathery skin must be sliced and broken open to reveal their complex interior of red seeds, arranged in a star-shape, surrounded by a backdrop of spongy white flesh The exposed seeds, called arils, are covered in juice sacs, and are the only edible part of the plant. The seeds are actually considered to be berries. And, lastly, the sticky-sweet grenadine syrup (now mostly corn syrup and artificial ingredients) commonly used as a cordial in cocktails was originally made from pomegranates and gets it's name from this wildly exotic fruit.
Nutritional & Health Benefits From Pomegranates
---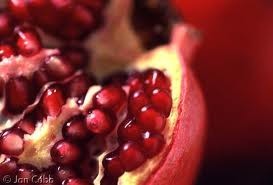 Nutrional benefits of pomegranates
Pomegranate juice contains at least twice the antioxidant power than red wine, green tea, blueberry juice and cranberry juice. Pomegranates have a very high content of tannins, called punicalagins, a potent polyphenol component found to be an active ingredient involved in it's superior health benefits. Pomegranates are also a good source of vitamin B (riboflavin, thiamin and niacin), vitamin C, calcium, folic acid, and phosphorus. The combination of these ingredients and other minerals create a powerful synergy that promotes good health. The antioxidant activity protects cellular membranes and clears free-radical debris from inside of the cells, preventing premature aging.
New research indicates that the high level of antioxidants found in pomegranate juice is effective in combating free radicals that may cause a number of afflictions, including heart disease, stroke, hypertension, infertility, premature aging, and skin cancer. Research has also found that one glass of pomegranate juice a day could improve blood flow to the heart. The fruit's antioxidant properties prevent bad cholesterol from forming, which keeps the arteries clear and reduces the likelihood of heart attacks and strokes.
A separate study found that drinking pomegranate juice regularly can also dramatically reduce the size of atherosclerotic lesions, which narrow the arteries and cause heart failure. Other research has found that pomegranate juice inhibits the production of enzymes that damage cartilage, and opens up the possibility of the prevention of osteoarthritis. Another study demonstrated that pomegranates contain a powerful agent against cancer, particularly prostate cancer. Pomegranate juice can also be used as an antiseptic on small cuts, but be careful because the juice is also used as a strong dye and permanently stains clothing.
---
Potential health benefits of pomegranates:
Lower risk of heart disease

Lower risk of stroke

Lower risk of cancer

Lower risk of osteoarthritis

Lower risk of infertility

Slow premature aging process
NOTE: Pomegranate juice might interfere with certain medications in the same way that grapefruit juice does. Be sure to ask your doctor or pharmacist about any drug interactions.