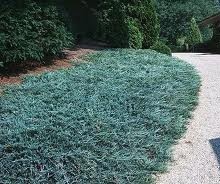 Need to soften hard edges or replace the need for so much mulch? Or looking to fill those spaces between stepping stones or pavers? Maybe you've got a huge, ugly embankment that you can't get grass to grow on and, even if you could, you wouldn't want to risk life and limb to mow it? Or maybe you have a large tree that creates so much shade there's nothing but dirt and nobby roots beneath its canopy? Well, don't fret, there's a solution: ground cover plants!
Ranging in height from an inch to four feet, groundcover plants serve several purposes. They not only provide soil cover, but they can prevent weed growth and soil erosion. For many gardeners, ground cover plants are the best answer to problem areas where too much sun or barely a ray falls, or where too dry or too moist conditions are a turnoff for other greenery. Talk to any seasoned professional landscape designer and he or she will tell you that groundcover plants are what really make a landscape look great. When planted around and beneath all of the other plants and trees in the landscape, groundcovers work to tie the entire landscape together.
The slew of groundcover offerings - woody or herbaceous; climbing, clumping or running; evergreen or deciduous - in all kinds of colors, textures and fragrances, leaves the door wide open to finding a fit for your landscape or garden's needs.
Use the Plant Search in Gardenality to find just the right groundcover plant for your landscaping project.