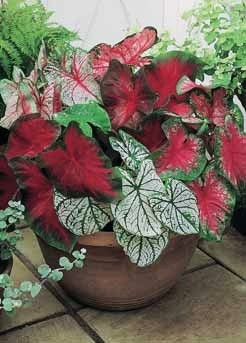 Caladiums, which are sometimes called "Angel Wings" or "Heart of Jesus," are usually planted outside in a shady flowerbeds and gardens. However, these beautiful plants can be successfully grown indoors with a little planning.
You will need to consider and determine the best place in your home for growing caladiums. Caladiums prefer bright light, high humidity and fluctuating temperatures. With these conditions in mind, the perfect room in the house would be the bathroom. If the bathroom is not the room you had in mind, then when choosing your room make sure that the room can provide the conditions needed for these plants to remain healthy and happy.
Other conditions needed for growing caladiums are indirect sunlight to keep their leaves from scorching, moisture-retentive, well-drained soil and regular feeding with a time-released fertilizer or water-soluble fertilizer. When all these conditions are met, the caladium will become one of the prized houseplants in any home.
Caladiums can be enjoyed for years with just a little care, including includes how to handle them when their growing season is over and it is time to put them up until next year. This begins with their leaves beginning to turn yellow and droop, usually in the fall. When this begins, carefully lift the tuber, along with the attached foliage, out of the pot. Clean all the excess soil off them then allow the entire plant to air dry, by placing it in a warm, sunny location. The foliage will begin to break away form the tubers and when this happens, it is time to continue with the process. Take the foliage completely off and pack the tubers in moist peat moss or sand. Then keep tubers dry, well ventilated and cool, somewhere between 50-60 degrees, until they begin to grow again.
Since caladiums are tubers, they are relatively easy to propagate. Propagation should occur when the tubers are being prepared to be stored until the next growing cycle. When the tubers are carefully lifted from the soil, they can be divided. Be sure to leave several eyes on the tubers. Now you have several caladium plants to look forward to next season. If your caladiums are not very leafy, this can be improved by scooping the dominant eye of the tuber, allowing the dormant eyes to elongate and grow, producing more leaves from one tuber.
When the caladium tubers begin to grow, the cycle begins again and it will continue for many years. Enjoying these plants indoors is possible as long as their growing conditions are met, they will multiply also, if that is what you want them to do.