Creating a Quiz in Your Quiz Manager
Can you stump the world's best gardners, botanists, entomologists, ornithologists, and other outdoor experts?
Creating a new Quiz may just be the most difficult thing to do on Gardenality. But, with a little patience and persistence, you can do it!
Okay..straight to it...
To begin creating a Quiz, go to your My Garden Homepage and click on the Quizzes tab. Then click on the Manage My Quizzes link. This will open up your Quiz Manager. Here you will find the Create A New Quiz form.
Follow the instructions below to create a new Quiz:
---
Title Your Quiz
---
Start by entering a title for your quiz and then click on the green "Create Quiz" button as shown in the image below.

---
Ask A Question
---
Type in the first question you want to ask and then click on the Add Question button.

---
Add An Answer
---
Your question will have multiple choices for answers. You will create multiple choice answers for your question. One answer being the RIGHT answer, all others will WRONG answers. Start by typing in the first answer to your question. After typing in your first answer click the Add Answer button.

---
Add Answer Response
---
Now you will fill in a response to the answer. If the answer is a Correct answer, explain in a little more detail why it's right and click the box next to "Is Correct?". If the answer is a Wrong answer, explain why, and then provide the correct answer. This helps to educate those who answer the question wrong. Then click the Save Answer button and then the "Return To Question" button. You will be taken back to the page where you can now provide your second answer. Repeat this process until you have provided at least two to four possible answers for your question.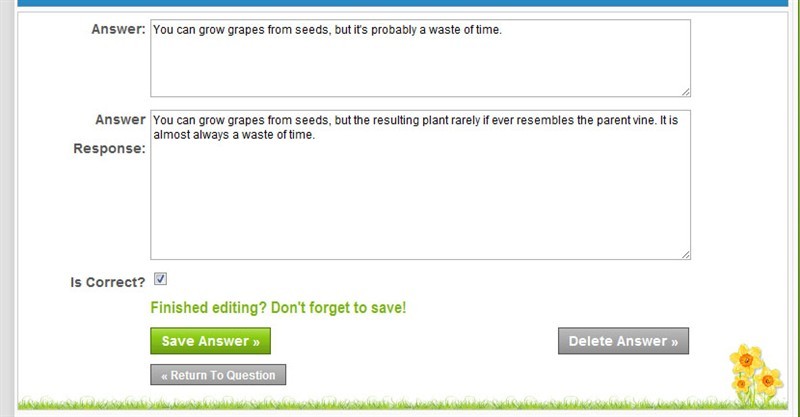 ---
Save Quiz Question
---
When you have finished providing all the possible answers and answer responses to your first question click on the Save Question button. Then click on the Return To Quiz button. Now, you are ready to ask another question and provide more multiple choice answers.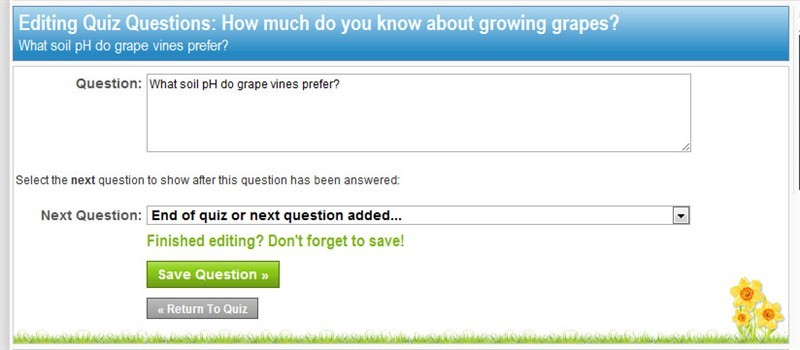 ---
Repeat Process
---
Continue with this process until you have asked and provided answers to at least five or more questions. When you have finished you last question, click the "Return To Quiz" button (as shown in the snapshot above). Then, click the "Save Quiz" button in the top section of the Quiz Editing page. Now all you have to do is arrange the order of your questions. Use the "Nest Question" field to do this. When you get to your last question, leave "End of Quiz" in the field.
Now you're done! And, if you got it right the first time go round, consider yourself a genius!