Creating Your Own Gardenality Member Profile is Easy - and FREE!
---
Signing Up
---
Before you can begin creating your own profile in Gardenality, you have to sign up! Signing up only takes a couple minutes. To do so, click on the "Sign Up" link found at the top right corner of every page in Gardenality. Oy you can get to the sign up form from the blue banner on the Gardenality Homepage.
---
Filling Out The Sign Up Form
---
If you have a Facebook account you can press the Facebook Connect button on the sign up form to sign up in Gardenality.
If you don't have a Facebook Account:
Start by entering your First Name, Last Name, E-mail Address.
Enter a password of your choice. Make it something familiar that you can easily remember. Write this password down in case you forget it.
Enter your birthday. Don't worry, this information will not be viewable by other Gardenality Members. It lets the Gardenality Team know when to send you a special gift on this very special day of the year. :-)
Enter Code: Enter the code you see in the box just above this field. In the example below it is: "located". This is for security purposes.
Read Gardenality Terms of Use and Privacy Policy and then check the box to "accept."
Click on the green "Sign Me Up" button. After clicking this button, a window should should appear on your screen with instructions for confirming your email address.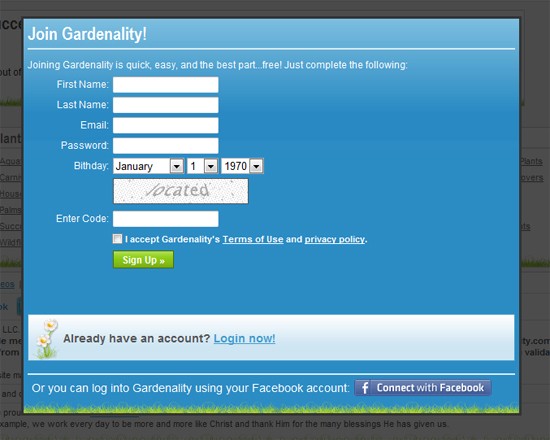 Confirming Your Email Address
After, filling out the information in the Sign Up, a secret confirmation code will be sent to your email box. Go to your email and look for the confirmation e-mail from Gardenality.com. Copy the code from within the e-mail (only the code, no spaces to right or left) and then paste it in the Confirmation Code field as shown boxed in red in the picture below.
Can't find your confirmation e-mail? E-mails can take between 5 and 10 minutes to arrive. Be sure to check your spam folders as our e-mail may have been marked as spam. Make sure to add @Gardenality.com to your safe senders or contact list. If you haven't recieved your confirmation email after 10 minutes or if you lost or deleted the e-mail, double check the spelling of the email address you entered on the Sign Up Form, and then press the "Resend Conformation E-mail" button as seen in the picture below.
After entering in your confirmation code and clicking on the green "Confirm My E-Mail" button as seen boxed in red in the picture below, you should now be automatically "logged in" and can begin creating your new Gardenality Profile!