Pruning Hybrid Tea Roses
Late Winter / Early Spring Pruning: Just prior to or when new growth begins to emerge it is time to hard prune your roses.
The first step in pruning any type of rose is to remove any dead, damaged, diseased, or weak and thin canes, cutting them off flush with the bud union. Remove any canes that are growing into the middle of the bush or are crossing one another. Always prune to an out-ward facing bud so that canes do not grow into the center of the plant. The ideal angle of a cut is 45-degrees, slanted parallel to the direction of the bud growth. (See diagram below)
Cut remaining canes back to about 18" above the ground.
Pruning During the Bloom Season: During the bloom season it is only necessary to prune away faded or finished blooms. Simply trace from the spent bloom down the stem until you come to the first five-leaf branch. Once you have located the first five leaf branch make your cut about a half inch or so above the bud that is nestled at the base of the five-leaf branch as shown in the diagram below. Do not cut too close to the bud or at too sharp of an angle.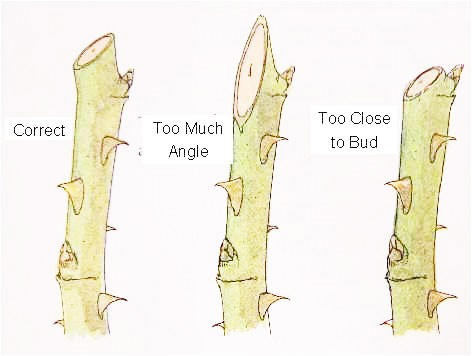 ---
Mulching Roses
Mulch is a layer of natural material that is placed atop the soil to blanket the root sytems from the cold temperatures during the winter months and or to help retain moisture during the hot season. It can be pine needles, wheat straw, or wood mulch. Applying mulch also helps to keep the ground moist and weeds to a minimum.
Mulch should be no more than 2" thick. Shredded wood mulches applied too thick can develop fungus and keep water from reaching the root systems