So you're thinking about building a garden pond? It's really not too difficult to build one yourself. A pond may offer a number of benefits. It can be cool and relaxing, visually appealing and it can provide the local wildlife a watering point. Aside from the enjoyment, it can increase the value of your property.
Building an in-ground garden pond is much easier than you think, I've built hundreds of them. But, before you start digging, there are some things you'll need to consider...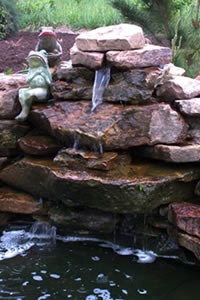 Getting Started
It is important to know the reason why you are building this pond before the actual construction. Before you build your garden pond, it's best to have a well thought out plan. Have you decided on the location?
Location is important...
Where will you're garden pond be located? You'll probably want to put your garden pond in a location where it can be viewed and heard from as many points as possible: near a patio or deck, an outdoor living area, or a location from where it can be viewed and heard through windows from inside the home. Look for an area that offers a slope. Slopes are perfect for use as a backdrop, and as a foundation in constructing your waterfall.
Size is important...
Do you want a mini-lake out back, or a smaller garden pond off the back patio? Do you want a waterfall, and if so, how big and how tall? Do you want a raging river, or just a simple stream or trickle of water over the waterfall?
Light
If you want to grow water lilies or other sun-loving aquatic plants, choose a sunny site. If your pond will be shallow, it is best to provide afternoon shade as it can over heat during mid afternoon. If you aren't concerned with growing flowering plants in the pond, a shady spot is fine.
Electricity
Consider electricity supply for pumps, filters, and lights. If your pond will have a waterfall, it will need electricity - so locate your pond accordingly.
Overflow
Ponds must have an overflow area a low point to control where the excess water should flow out of the pond when there is heavy rainfall.
How deep?
Temperature extremes should be minimized in the pond. If you intend on raising and keeping fish, it is important to make the pond as deep and as large as practical. However, deeper ponds may need to be fenced to prevent accidents.
If you want a small pond, maybe one with a 5 to 10 feet length and/or width for a water surface area, with a few small goldfish swimming around and a few small plants for accents, you're at the right place.
Waterfalls and streams are cool
If you want a raging river that splashes over Mount Everest, or a stream that connects two ponds, and you have very little or no experience in the construction of a garden pond, we suggest you contact a pond professional. Otherwise, small waterfalls and other features are easy to build.
Plants and fish...
Do you want lots of larger fish such as Koi, smaller goldfish, or no fish at all? Do you want plants growing inside the pond, and if so, what types?
Liners
Have you decided what type of liner? Choice of pond liner will be a flexible one, no pun intended. Your basic choices will be between flexible and preformed rigid liners. Flexible liners allow you to design the pond any shape you like.
IMPORTANT!
Before heading off to your local pond supply store to buy materials first draw a simple sketch on paper of the general shape you want for your garden pond. Note the length, width, depth(s), and height of waterfalls on your sketch. This will help your local pond store professional to advise on the materials that will be required. As a general rule, a 180 square-foot or 10' x 15' pond is a good "standard"" size water feature. However, build whatever size and shape you want if you'll be using a flexible pond liner. Include in your sketch where the waterfall(s) will be located.
Now you're ready to build your pond! Click on the link just below to see how easy it is to do!