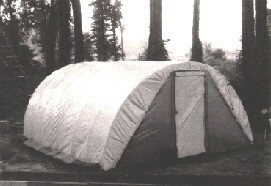 Home gardening is an enjoyable hobby for many people. If you are among them, you might benefit from a small backyard greenhouse. A greenhouse can be built easily and inexpensively in several hours using simple hand tools and materials available at most building and plumbing supply stores.
Below are plans and instructions for an easily constructed greenhouse that only costs about $100 to $150 and may be used for many purposes. Measuring 12 feet by 14 feet (168 square feet), it is small enough to be unobtrusive but large enough to meets the needs of the serious grower. The completed structure is shown above.
Selecting a Site
---
Choose a level, well-drained plot for the greenhouse. If it will be used primarily for plant propagation in the summer, place it in partial shade to minimize heat buildup. A good location is the north side of a large deciduous tree. If a partially shaded site is not available, you can use a shade cloth as we do at the nursery or white plastic to control the amount of sunlight reaching the interior.
NOTE: If the greenhouse will be used for starting transplants or growing plants to maturity, it will need maximum exposure to the sun. It should also be located where air drainage is good; avoid low areas surrounded by woods or buildings. Easy access to running water and electricity is also important.
Constructing the Greenhouse
---
The greenhouse consists of a wooden frame to which are attached bows of polyvinyl chloride (PVC) pipe. The bows hold up the clear plastic film covering.
Use treated lumber. Avoid wood preserved with chemicals such as pentachlorophenol or creosote. Lumber treated for ground contact has a higher concentration of preservative and therefore will last much longer than untreated or lightly treated wood.
Unless the site is very flat, you will need to level the foundation boards. We did this on our greenhouses by digging a trench on the high side instead of raising the low side, as the foundation boards should contact the ground at all points to ensure a good seal. To keep rainwater out, however, the top of the foundation board should not be below ground level, particularly around the door. the purpose of the 4-inch-by-4-inch post at each corner (Figure 4) is to anchor the greenhouse and prevent it from moving in high winds.