A well-planned landscape can tremendously benefit the lives of those who dwell among it.**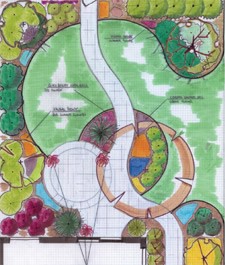 An Introduction to Landscape Design
Just about anyone knows a great looking landscape when they see one. Take a drive through any neighborhood and it's easy to spot the landscape that should receive the 'Yard of the Month Award', every month! Chances are, a professional landscape designer designed it, or someone who has the working knowledge of art elements and design principles.
If you know very little about landscape design, and are trying to decide whether or not to design it yourself, the overview below may help you to determine whether or not you want to tackle the job. At least we hope so.
Steps in Developing a Landscape Design
The benefits of an organized system in developing a landscape design are tremendous. Some research and a little good advice from a professional can go a long way towards achieving satisfying results. As with most endeavors, the level of efficiency relative to time input is greatly increased with an organized and more educated approach. The game plan for the landscape designer should follow a sequence such as the one presented here:
Steps In Design
Develop a plot plan
Conduct a site analysis
Assess family needs and desires
Locate activity areas
Design activity areas
Plant selection and placement
Develop a Plot Plan
It's difficult to visualize certain aspects of a landscape design without putting it to scale on paper. The designer should think with drawings or sketches and make the mistakes on paper and not on the landscape site.
Whether designing a foundation plan or a full lot plan, you'll need to start by drawing a "plot plan". The plot plan should consist of:
Accurate size, dimensions and position of home and other major structures on the lot, including property lines
Accurate location, dimension and elevation of doors and windows
Existing and future planned driveways, walks, pools, ponds, play areas, outdoor living areas and other fixed structures or features
NOTE: It saves a lot of time if you can obtain an accurate plat of the house and property along with a house floor plan that shows outside dimensions. These plans may be secured from the builder, developer or county or city property records. Although the floor plan scale will probably be different from the scale you use, it will still be easier to convert the scale than to physically measure the house, lot, etc. In the absence of a plat, get the measuring tape out.
Once the position of the home on the lot has been determined, this should be drawn to a predetermined scale on paper. The most common scales used are 1" = 5' or 1" = 10', but you may choose another scale based upon your drawing equipment, size of paper and project dimensions.
Drawing Supplies You'll Need
Drafting pencils
Drafting paper
T-square
Scaled rulers
Triangle tool (right angle tool)
Art gum eraser
Landscape design template with circles and/or plant and tree shapes. Available at most office supply stores.
The designer must have a firm, steady working surface