---
Adding Scientific/Botanical Names To A Plant File
---
To add Scientific Names to a Plant File, begin by clicking on the Scientific Name tab (shown boxed in red in image below).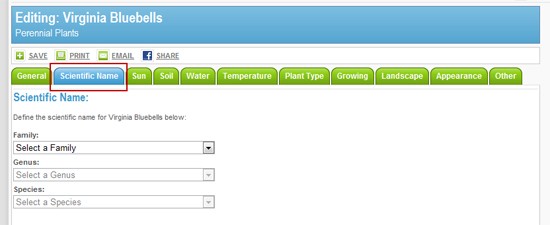 NOTE: You will add Family, Genus, Species and Cultivar names in succession before finally saving your work. Scroll below for detailed instructions for adding Scientific Names.
---
Adding A Family Name
---
All individual plants are part of a Family of plants.

Follow these instructions for adding a Family Name:
If you don't know the family name of a plant, or don't know how to spell it, do a search on Google to find it.
Now, click on the drop down arrow button to the right of the Family field (shown in picture above boxed in red). A list will appear showing Family names that already exist in the Gardenality Plant File Family Name Database. If you see the Family name of the plant you are working on in the list, click the name. If you do not see the Family Name in the drop down list, click on 'Add A New Family'.
After clicking on 'Add A New Family' in the drop down list, the fields shown in the picture below will appear.
Family Name - Enter the Family Name of the plant in the first field. Example: For Virginia Bluebells you would enter: Boraginaceae
---
Pronunciation - If you are not sure how to spell the pronunciation of a Family Name, do a Google Search. If you cannot find the pronunciation, skip it, click the green save button as shown in the image above, and go to Genus name.
---
Now, do the same for the Genus and Species name of the plant. Then enter the Cultivar name.
Below is an example of the entire scientific name for the plant know as Autumn Blaze Maple
Family: Sapindaceae
Genus: Acer
Species: freemanii
Cultivar: Autumn Blaze
---
NOTE: During the process of making selections, you can "Undo" any selection you've made by clicking on the "Undo" link next to any particular selection in the Your Changes section on the page.
---
Go to next page for instructions on adding Sun Exposure requirements to a Plant File...