Shady places that provide cool, refreshing areas of beauty during summer's heat can contribute color and interest to the landscape throughout the growing season. Large trees and shady areas in your yard can provide a perfect spot for a beautiful shade garden.
Every yard has some shade. Even if you don't have a tree on your property there'll be shade in the afternoon on the east side of your home and under decks.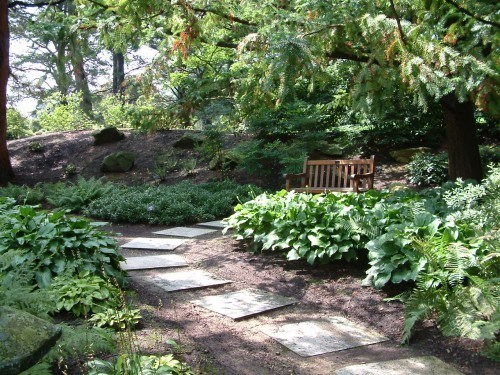 Gardening in the shade doesn't have to be frustrating. There are many plants that will tolerate low light outdoor environments, and a few, such as Cast Iron Plant, that thrive in total shade.
You can choose from an array of flowering annuals such as impatiens or coleus. Hosta lilies, hardy ferns, and heucheras are a few perennial plants that love the shade. A host of woodland plants and trees like it shady as well. Many groundcovers, such as Vinca Minor (Periwinkle) do great in shade and help tie together all of the other plants and trees in the shade garden.
In areas of the landscape that have morning sun with afternoon shade, you might even be able to grow a few herbs or leafy vegetables. Roses, including all the Knock Out Roses, will grow with some afternoon shade - in fact, they might even appreciate some relief during hot summer afternoons in the South. The trick is to know which plants are most likely to succeed.
If you have enough ceiling room in your shade garden or woodland area make sure to plant lower growing understory trees and shrubs such as dogwoods, red buds, and native azaleas. Florida anise is an example of shade-loving plant that is useful as an evergreen back ground or tree form specimen in the shade garden. If your shade garden is on the east side of your house, and there is a tall windowless wall, plant a Little Gem magnolia or a Camellia as espalier (flat against a wall).
Many of the most popular shade-loving perennials, such as Hosta Lilies, will go dormant in the winter. So it's a good idea to incorporate some shade-loving evergreen shrubs in the garden as well. Leatherleaf mahonia, aucuba, azaleas, rhododendrons, and some of the nandina are a few evergreen shrubs that like the shade. But we can't forget about those shade-loving deciduous shrubs such as the many varieties of hydrangea!
Groundcovers, such as Vinca minor and ajugas are great for filling in the spaces between all the other plants and trees in the shade garden. Perennials such as Hosta Lilies and deciduous perennial ferns will pop right through them in the Spring.
Deciduous flowering shrubs, such as hydrangeas make wonderful specimen accents in the shade garden.
Under large trees, where nothing else will grow, there are perennial and ornamental groundcovers that can be useful to cover bare ground. Ivy, Purple Winter Creeper, Asian jasmine, Dwarf Mondo Grass, and Creeping Jenny are a few examples of plants that can grow in what is often, poor, dry soil under large shade trees.
If you're looking for a continuous display of color from late spring till frost, shade-loving annuals such as impatiens, green leaf begonias, caladiums and coleus can provide outstanding flower and/or foliage color and texture in the shade garden.New Guinea impatiens are becoming an increasingly popular annual since they are now available in a wide range of intense flower and foliage colors.
Caution: Wait to plant summer annuals until after weather forecasts indicate no more frost.
Some of the Spring-flowering bulbs, such as crocus, scillas, snowdrops, tulips, hyacinths, and daffodils are great for shady beds. These early bloomers will catch enough sun to produce foliage and blooms before leaves have filled out on trees. Daffodils naturalize beautifully in an open wooded area. The tuberous begonia is another bulbous plant that grows well in light shade, since its delicate blossoms cannot stand full sunlight. Tuberous begonias are very tender, though, and must be stored indoors over the winter and not set out until frost danger has passed.