Really Unusual Theme Gardens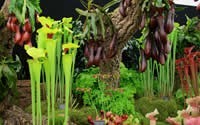 Carnivorous and Poisonous - This is a specialty garden that you won't find just anywhere. Some carnivorous plants, such as Pitcher Plants, can be grown outdoors. Other carnivorous plants are tropical and need the controlled growing conditions of an indoor garden. Many varieties of poisonous plants, such as Angel's Trumpet (Brugmansia) have interesting growth and flower habits that make them an intriguing idea for a theme garden. Be sure to plant this garden away from the little ones and where family pets are not apt to discover it.
---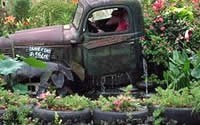 Redneck Garden: This is an amusing garden (not meant to offend anybody). You might say it's a country-style garden with some real interesting fixtures throughout. To plant a Redneck Garden, just think of plants and fixtures that are country-like like way out in the boonies, where life is a little slower and people don't worry much about what their neighbors think. Hey, maybe that's not such a bad way to be? Maybe you grew up in the country and know what we're talking about. Maybe a Redneck Garden will bring back some fond memories and neuro-associations.
In a Redneck Garden you'll want to use something like an old pickup truck (maybe 30's or 40's) or an old weatherbeaten barn or shed as a centerpiece or focal point. Make sure you make these safe for kids cause they'll be drawn to them. Other large fixtures might include an old tractor or tractor attachments and/or a piano. Use an old bath tub, tires, broken wheelbarrows, old wagons, or old buckets and barrels of varying sizes for planters. Let your imagination run wild.
For plants in the Redneck Garden make sure to provide plenty of space for vegetables - maters are good. Don't plant them in straight rows like you would in a conventional garden but randomly throughout the garden. Plant gourds you'll dry and hang later for bird feeders. Buy a few ounces of wildflower seeds and scatter them throughout the garden as if the wind had just blew them in. Plant honeysuckle vines that will grow over the fixtures and a persimmon tree to attract possoms - for the possum stew of course:)
When designing a redneck garden their are really no rules - just let your imagination run wild!
If you do a Redneck Garden we want to see it! Please send us pictures and we'll be sure to post them (anonymously if you wish). In the meantime, make sure to tell yer mama an nem we said hi and ya'll come back now, ya hear.
In case you took offense to the term "Redneck", here's where it came from: The term "red neck" originated long ago and refers to the sunburn on a farmers neck after spending a hot, sunshiny, summer day tending to the crops.
Get into theme gardening and before you know it, you'll be dreaming of themes that have special meaning to your family. Your kids will have a blast thinking of new gardens. No corner of your yard will be safe!