Cottage Garden
Cottage gardens got their start in England. The cottage garden of medieval England was a poor man's garden, where beauty was incidental to the plot's real purpose: to feed the cottager's family, while providing medicine, fabric dye, and scent to hide musty odors. Over the centuries, plants from exotic locales have been welcomed into the cottage garden...read on
---
Shade Garden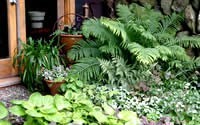 I suppose the term "shade garden" could refer to two things: planting shade trees to create some shade, or planting a garden under shade trees and/or other structures that cast a shadow. If you don't have any shade where you want to plant a shade garden, you might want to plant a shade tree. If you already have a shade tree, you're in business. Keep in mind though that aside from some real tough, shade-loving groundcover plants, and a few types of shrubs and understory trees, there aren't too many plants that will thrive long term under a large shade tree. The big tree usually wins the competition for soil space and water. But it doesn't require a tree to provide a good spot for a shade garden. In fact, every home has a shady side. On the east side of any home or other structure you'll always find shade in the afternoon. Most shade-loving plants require a little sun or filtered light to thrive, but it's the afternoon shade that most shade-loving plants require. There are different methods for planting various types of plants in you shade garden. In general, you will plant them just as you would anywhere else in the landscape...read on
---
Succulent Garden
Succulents are a group of plants, such as Cactus, that require very little if any watering. Technically speaking, not all succulents are cactus, but all cactus are succulents. That's why it's called a "Succulent" Garden. The entire range of succulents provide an amazing variety in stem shapes, colors and flowers. They are exceptionally easy to grow when planted in well-drained soils. Succulents are often thought of as non-flowering plants but many of them, such as Hens & Chicks and all the various types of sedums, produce very colorful blooms.
---
Rock Garden
Rock gardens are fun because they provide an endless treasure hunt for rocks to go in the garden. But rock gardens are not just gardens full of rocks. A traditional man-made rock garden can contain a ton (literally) or more of rocks, but they are placed artfully among the rock garden plants that will surround them...read on
---
Japanese or Asian Garden
So you want to design a Japanese Garden - Well, what is it you really want? Is it a true to period Japanese structure, with Mount Fuji in the background!... or an impression of style, elegance, and serenity? Needless to say, I like the latter idea. I like the idea of dabbling in other cultures...it's nice to take a little of their style and apply it to our own existences. The Japanese style garden is likable because of its serenity, simplicity, and easy maintenance. Japanese gardens have a style that immediately says...read on
---
Twilight, Night, or Moon Garden
The perfect garden for gardeners who work during the daylight hours and are only home at night. The Twilight garden is designed to be enjoyed in the evening hours. Some flowers are even more fragrant in the evening. When selecting plants, think of silvery or white flowers that can reflect the moonlight such as Moonflower, White Phlox (Tall or Creeping), White Astilbe, White Bleeding Heart (Dicentra eximia), White Daylily, Heucheras (with bright foliage), Variegated Hosta Lilies, White Oriental Lily, Artemisia (white or silver foliage), Southern Magnolias, and White Impatiens. But this is listing only a few plants that would serve well in a twilight garden.
---
Literary Gardens
Shakespearean - A classic is the Shakespearean garden. Shakespeare mentions more than 100 plants in his works, covering the entire spectrum from trees to flowers and herbs.
Biblical - Biblical gardens are another popular theme. There are vegetable, herbs, fruits, trees and all manner of plants mentioned in the Bible. You could focus on a particular book and grow only those plants or grow the common vegetables and fruits and then host a biblical feast. SEE: List of Plants in the Bible
Mythological - Mythology and folklore lends itself to a challenging theme garden. There are plants mentioned throughout classic myth and folklore, as well as all the names of gods and goddess to consider. Your challenge is in spotting the references and then hunting them down in the garden center.
---
Natural Dye Garden
Many of the same plants from the Colonial garden are included in the natural dye garden. Virtually all the basic colors may be obtained from vegetation. The colors derived from plants have the softer look that is reflected in paintings of the era. Plants include beets, onion, carrots and many herbs.
---
Predator Insect Garden
Experienced gardeners are always on the lookout for natural methods of pest control. This themed garden helps you out by inviting in the good bugs to feast on the bad bugs! The best way to attract the good bugs is by planting the plants that produce flowers they like. Click here to find a list of plants that are known to attract the good bugs to your garden.