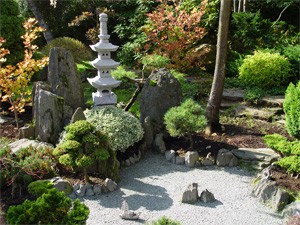 Japanese gardens are very important to the Japanese people. All of the gardens are representations of nature. The purpose of these gardens is to capture nature in the utmost natural way, and do it with a touch of artistic feeling. Japanese gardens are built for endurance and to withstand and harmonise with the typically wet weather of Japan.
As mentioned, the essential elements to a Japanese garden - water, garden plants, stones, waterfalls, trees, and bridges - create this symbolism.
Keep in mind that a Japanese garden is a quiet place, allowing people to look back and reflect or meditate. The use of soft flower colors in pink and white are often the choice. In a Japanese garden there is a respect for nature. The understatement and simplicity of design add dignity and grace to Japanese gardens, making a clean and unique statement. These gardens give many impressions to those who appreciate them and they move people in various ways.
Trees: Trees are used sparcely in the Japanese garden - spaced at distances apart where each tree can be focused on as a stand alone as a specimen. Of course Japanese maples are a staple, but other trees, such as flowering cherry and Japanese magnolias (Tulip Trees) are found in the Japanese garden. Japanese Black Pine, Hinoki Cypress and 'Torulosa' Juniper are among a few evergreen trees that make fine specimens and symbolize youth and longevity.
Shrubs: Any shrubs with "japonica" as part of the botanical or scientific name, such as Aucuba japonica, Pieris japonica and many others, are all suited for Japanese gardens. The Japanese use azaleas and camellias for deep pink splashes of color in the garden.
There are American native plants that fit nicely in the Japanese garden as well. One good example is the 'Little Gem' Dwarf Southern magnolia. It is evergreen and produces fragrant, white, flowers from June to November.