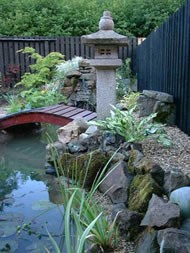 So you want to design a Japanese Garden - Well, what is it you really want?
Is it a true to period Japanese structure, with Mount Fuji in the background!... or an impression of style, elegance, and serenity? Needless to say, I like the latter idea.
I like the idea of dabbling in other cultues...it's nice to take a little of their style and apply it to our own existences. The Japanese style garden is likable because of its serenity, simplicity, and easy maintenance. Japanese gardens have a style that immediately says something about their creators, and they are not overpowering.
Without going into too much detail and history, the Japanese garden makes artistic use of plants and trees, of rocks, sand, artificial hills (optional), and most always ponds, and flowing water. In contrast to the geometrically arranged trees and rocks of a Western-stvle garden, the Japanese garden traditionally creates a scenic composition that mimics nature, as artfully as possible.
---
Do's and Don'ts of Japanese Gardening
---
Don't:
Overplant! - Japanese planting is sparse. We Americans live in a microwave society where we want instant gratification. We tend to want to plant too many plants in a given area so the landscape looks full from the start. Japanese cities may be overcrowded with people, but their gardens are not overcrowded with plants. This is not the way things work in the world of Japanese gardening. Resist, resist, leave space. Make every plant, boulder, or item a specimen that stands on its own. Groundcovers will be the only repetitive theme in the garden.
Bamboo plants are a staple in Japanese gardens. Unfortunatley, most varieties of bamboo are illegal to sell in many states. Bamboos can be highly invasive and very difficult to eliminate once established. If you do incorporate bamboo into your garden area do not overuse it. Plant it in steel or iron tubs as either a sparce vertical accent or low grassy square. An alternative would be to use dried bamboo as a screen or partition, or use some of the taller growing ornamental grasses, such as Giant Reed Grass. There are other plants that resemble the habit s of bamboo, such as the many varieties of nandina and mahonia.
Do:
Use plenty of rock - We rarely incorporate enough rock into the landscape. However, small bolders, riverstone, eggrock, and pea gravel will give punctuation to the plants.