There are many varieties of flowering plants that are useful to hummingbirds in North America.
Keep in mind that hummingbirds prefer tubular flowers that allow their long, needle-like bills to fit inside these tubes. Thus, their tongues can easily lap up the sweet nectar found deep inside the flower tubes.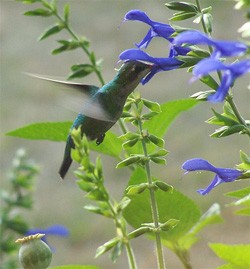 If you are creating your hummingbird garden from scratch, you should consider planting a mix of perennials, annuals, shrubs, trees, and vines. Some perennials take several years to fully mature and create a bumper crop of flowers, so plant a variety of annuals as fillers the first year.
Below are some must-have plants for attracting and feeding hummingbirds.
Annual Plants
Petunias
Impatiens
Salvias
Cleome
Geraniums
Perennial Plants
Black & Blue Salvia
Hot Lips Salvia
Lantana 'Sonset'
Bee Balm
Butterfly Bush
Hummingbird Plant (Dicliptera suberecta)
Pineapple Sage
Texas Sage
Vines
Madame Gaeln Trumpet Vine (Campsis)
Trumpet Honeysuckle
Shrubs
Azaleas
Tropicals
Bird Of Paradise
Browalia
Fuschia
Hibiscus
Mandevilla
NOTE: Make sure to have trees planted nearby your hummingbird garden. Every once in a while a hummingbird needs a perch to take a break on and trees also provide shelter.