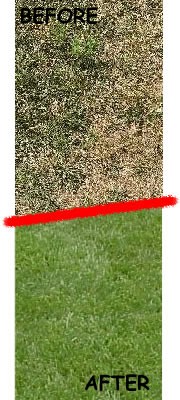 In order to maintain density of turf, some types of lawn grasses, such as Fescue and Bluegrass, may require "overseeding" once every year. Overseeding can also be done to convert your lawn from one type of turf grass to another, though this is not recommended except for overseeding a Fescue, Bluegrass or Bermuda lawn with Centipede seed. Almost any type of lawn grwoing in full sun can be overseeded with Centipede seed. It will take time, perhaps 1 to 3 years, but eventually the Centipede usually chokes out any existing grass and/or weeds. Som gardeners like to overseed their dormant Bermuda grass lawns in Winter with annual ryegrass. This keeps the lawn looking green throughout the Winter.
The Best Time to Overseed A Lawn
Timing of overseeding will depend on the grass type.
Cool Season Grasses - Fescue and Bluegrass are best overseeded in early Fall, or early Spring. This allows the seedlings to become established before the heat of Summer arrives.
Warm Season Grasses - Centipede and Bermuda are best overseeded when soil temperatures rise above 68 degrees F in Spring through mid-Summer. This allows the seedlings to become established before cooler temperatures arrive in Fall.
What Type Of Seed?
Fescue - When overseeding a Fescue lawn, it is not absolutely necessary to overseed with the same variety or name brand of seed that was used when your lawn was originally planted. Often, the variety you first planted may no longer be available. As a general rule, "turf-type" Fescue grasses are recommended. Check with your local independent nursery and garden center to see what varieties of turf-type Fescue perform best in your area.
Bluegrass - For those attempting to establish a Bluegrass lawn in the South, 'Thermal Bluegrass' is probably the best choice. Thermal Bluegrass was tested at both the University of Georgia and Auburn University and found to be the most heat-tolerant of varieties. You can overseed other types of Bluegrass with Thermal Blue.
Bermuda - A healthy, well cared for Bermuda grass lawn should not require overseeding. However, in the event "winter kill" occurs, and patches of a Bermuda lawn die out during Winter, overseeding may be desired. When overseeding a Bermuda lawn, to avoid density, color, height and texture contrasts, it is highly recommended you use the same variety of Bermuda seed that was originally planted. If this is not possible, consult with your local independent nurseryman as to which varieties may be best suitable as a substitute. "Turf-type" Bermuda is highly recommended for use as lawn turf grass. "Common Bermuda" is best suited for use in pastures, and is considered by many to be a weed when growing in the lawn.
Centipede a/k/a "The Lazy Man's Grass" - A healthy Centipede grass lawn should not require overseeding. However, in the event that "winter kill" occurs, overseeding bare spots or patches during Spring may be desired. There are now two types of Centipede seed available: 'Original', and a newer strain, 'Tifblair'. The two are identical in appearance, however Tifblair has proven to be more cold tolerant ,and therefore may be more suitable for regions farther north. Additionally, Tifblair holds it's color better toward the end of the season. Tifblair Centipede has proven cold hardy to as far north as Blairsville, Georgia, and Stillwater, Oklahoma. Just about all other lawn types, excluding St. Augustine, can be overseeded with Centipede seed.