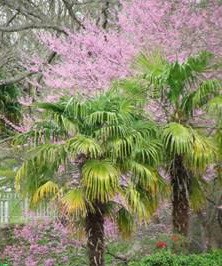 Palms have become more and more popular in Southern gardens - mainly as a result of milder winters. That being said, most palms need tropical or sub-tropical temperatures, but there are some hardier varieties suitable for planting all the way up to Zone 6 in the South. Here we will talk about hardy palms: those which can tolerate freezing temperatures and even colder.
Where varying degrees of protection can be provided during winter, species of borderline hardiness can be grown - including Washingtonia and Phoenix. Several species, such as Sabal minor are extremely cold-resistant but require summer heat to grow well.
Hardy palms are invaluable as structural plants in 'tropical' style gardens in temperate areas. Many are best grown as individual specimens, whereas others look good in groups of a single species. They associate well with, cordylines, yuccas, ornamental grasses, hardy bananas, elephant ears, canna lilies and many other hardy or annual tropical looking plants.
Cultivation
Hardy palms can be grown either in containers or the ground, provided there is good drainage. Hardy palms for planting out in the garden should be purchased in at least a full gallon size container - larger is better. Plant well-rooted plants from mid-spring to mid-summer to allow time to establish before the winter. Sheltered locations are best as few palms tolerate windswept locations.
When planting a palm in heavier clay soils that are prone to winter waterlogging thoroughly cultivate a wide area. Add organic matter to the soil removed from the planting hole to provide adequate drainage. Then throw the soil up into a low mound. Planting into the center of this mound will keep at least some of the roots above the water table and saturated soil in winter. Do not place grit or gravel in the bottom of a hole dug in clay - this will merely create a sump where water collects in winter.
Palms grow slowly but need adequate space as they do not compete well with surrounding plants and most are not tolerant of shade. Unsightly dead lower fronds can be removed once they are totally dead, but do not cut them back too close to the trunk. Apply an annual feed of a general-purpose or specialty palm fertilizer each spring and keep well watered in prolonged periods of dry weather.
Winter Protection
As a palm's stems thicken with age, the plants become more tolerant of lower temperatures. Smaller plants should always be protected for the first year or two during winter. Prolonged severe cold and cold winds can damage the leaves and may kill the central growing point.
Where cold winters occur, or when weather forecasts indicate the approach of a severe cold front, prepare younger plants by tying the leaves together to protect the central growing point. Wrap the whole plant loosely with a breathable material such as insulation, carpet underlay or similar material. A protective covering of polythene supported over the plant will keep the worst of the winter wet or snow off but do not wrap with polythene as this will encourage rot.
In areas with mild winters plants can be left unprotected except for very severe cold spells. A 4" layer of mulch, such as wheat straw, pine straw, or a 2 to 3" layer of shredded wood mulch over the soil can help to protect roots.
Palms grown in containers should also be protected or brought under cover for the winter as the roots will be exposed to lower air temperatures. Where containers are left outdoors ensure the pot is also wrapped to prevent frost damage to the roots.