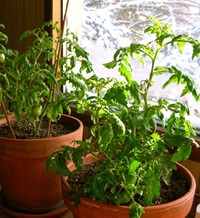 Did you know that it's possible to grow perfectly fine tomatoes inside your own house? You won't need a garden or a greenhouse to start your adventure and the results of your labor can be very rewarding. After all, homegrown tomatoes always taste better than their poor supermarket imitators.
If you want fresh, home-grown tomatoes and don't have an outdoor space in which you can place containers, it is worth trying some indoor container gardening. Of course you cannot have a full garden in the house, but a bright, sunny window can be the site for growing fresh food all year. Small-fruited tomatoes can be included in the indoor edible garden.
Plants will dry out less quickly indoors and will also grow more slowly, needing less fertilizer. To make watering easy it is wise to set the pots in large trays with an inch or two of decorative stones in them. Not only will this prevent your having to move the plants in order to water them, which may discourage you from watering when you should, but it will also provide humidity, which is a major requirement, especially during winter when the house is warm and dry.
If you have a sunroom that provides full overhead sunlight this is perfect. As mentioned before, at minumum, a sunny window, preferably south-facing, is almost a must for indoor vegetable growing. Tomato plants will also need supplemental light, such as a combination warm-white/cool-white fluorescent fixture, especially during winter months. Insufficient light will result in tall, spindly plants and failure to flower and set fruit.