With Fall here now and Winter fast approaching many gardeners are cleaning out their warm weather annuals, protecting plants, and mulching much of their gardens getting ready for cold temperatures. Fortunately many gardeners including myself that are located on the West Coast, South East, and Southwestern desert locations can be enjoying this time of year hunting through our local nurseries and garden centers for our cool weather annuals. Planning, purchasing, and creating beautiful blooming gardens for color all winter long is not only fun but extremely rewarding. Although snow covered landscapes are also beautiful we in warmer climates have to suffer and enjoy a colorful garden over the beauty of a soft snow white holiday and winter season.
Although there are many annuals that will bloom in the cooler weather some bloom more sporatically than others. I like to plant those annuals that have always bloomed continually for me throughout the coldest months of December, January, and February. Besides several flowering plants there are plants with beautifully shaped and colorful foliage that add a lot of color also throughout the winter months. All the annuals noted below can be planted in the garden or do well also in containers, window boxes, and hanging baskets. There are many cool weather annuals you may find in your local nursery and garden centers. Those I have listed below have done well for me in mild winter locations (zone 9 and 10) with very few nights with freezing temperatures.
Its important to remember your winter annuals are receiving lower light and heat levels during the cooler months of the year. Lower temperatures and rain will also keep the soil moist for longer periods of time. Most of your winter annuals will bloom more abundantly for a longer period of time when they receive at least 6 hours of direct sunlight a day. Keeping the soil moist but never too wet is important. Too wet a soil can cause disease and or leggy growth. When planting in beds make sure the soil is well draining or plant in raised beds to insure better drainage if needed.
When choosing plants for winter color at the nursery look for those that are flowering or have buds that are already developing. Unlike the warmer months plants are slower growing in the cooler months and may not develop flower budding as well once temperatures drop. Because plants will not grow as fast in the winter months you can also space them a bit closer than you normally would.
---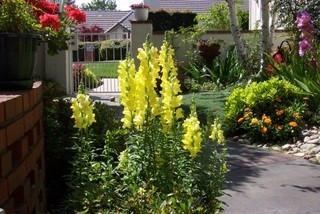 Snapdragon - These cool season annuals come in dwarf (8 to 10 inches tall), semidwarf (15 to 20 inches), or tall that will reach 2 to 3 feet in height. Additionally, there are new trailing varieties that work well in hanging baskets and mixed containers. Snapdragons are hardy into the 20s and flower continually with all day direct sunlight. Snapdragons are great fall and winter color as they love nighttime temperatures in the 40s with daytime temperatures in the 70s. Taller varieties of snapdragons work well in combination with pansies and ornamental kale and cabbage. Pinching back young plants and deadheading spent blooms help to force continued lush new growth and more flower stocks. Planted around your larger evergreen shrubs can spotlight their colors even better.
Rocket Mix Tall Snapdragon
Montego Mix Snapdragon
---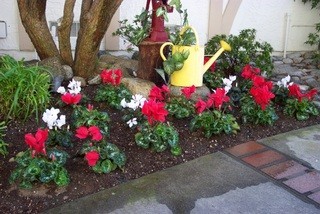 Cyclamen - Florist Cyclamen is a real favorite of mine. I use this plant under most of my trees throughtout the gardens in mass plantings. Although there are many colors and variations of color I enjoy planting many of the red and white cyclamen in entry gardens that look great for Christmas holiday color. The cyclamen will take light frost and continue blooming well into Spring. The Florist Cyclamen also does well in pots and makes a great flowering plant for entries and or house plants for indoor color. Our Christmas holiday just wouldn't be the same without our red and white cyclamen complementing our taller holiday poinsettias. Remember to dig up and store your cyclamen corms once the foliage dies back in late Spring. Storing your corms each year will give you more cyclamen to add to the garden for several years.
---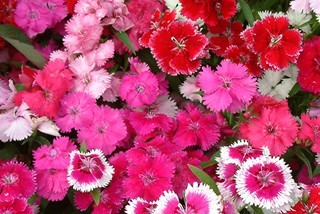 Dianthus, Chinese pink (Dianthus chinensis) - Many don't think of the dianthus as a cool season annual but I have found many varieties such as the Diamond Series to be quite cold hardy. In the Southeast and Southwest most species of Dianthus will give gardeners flower color through winter when plants purchased from nurseries and garden centers are planted in September through November. To encourage continuous blooming or reblooming, deadhead regularly. After each cycle of bloom lightly shear back both spent blooms and foliage to encourage nice new grow keeping the Dianthus more compact and less leggy looking.