Below are some helpful tips for carving the perfect pumpkin!
1 - Pick just the right pumpkin! Before you run out to pick out a pumpkin for carving, know how you want to design it so you can pick the right size and shape. If you plan on a detailed design with etchings it's best to choose a pumpkin with a smooth surface.
2 - Shop around. Grocery stores usually carry pumpkins however you'll probably find the best selection pumpkins and gourds is at your local nursery and garden center. Avoid pumpkins with surface rotting or soft spots. But don't be scared if they're dirty or have warts all over them. As long as the pumpkins are firm and have solidly attached stems you're good to go.
3 - Wait to carve. It's probably best to wait to carve your pumpkin until several days before Halloween. Pumpkins soften quickly, and the more surface you cut the faster it's going to get soft and fall apart.
4 - Give it a bath. After waiting, if you want a clean pumpkin, rinse the surface off with the garden house and give it a gentle scrubbing to remove any dirt from the field.
5 - Put a lid on it! Before cutting the top of your pumpkin, which will serve as the lid, use a washable marker to draw a circle with one triangle knotch around the top on the pumpkin. This knotch will make it easier to fit the lid back on when you're done. Use a sturdy knife to cut at a 45 degree angle around the line you've drawn atop your pumpkin. If you make your cut straight up and down (vertical) your lid might fall inside the pumpkin!
6 - Remove the guts - yuck! Start by using your hands to remove most of the innards from inside your pumpkin. Then use a large cooking spoon to scrape the side walls clean. Avoid digging into the walls too much as this can cause soft spots to develop much quicker.
7 - Draw your design. Use washable markers to draw the design you want on your pumpkin. To get your creative juices flowing, see the sample designs below. Once you're done carving you'll be able to wash off the remaining marks with a damp cloth.
8 - Make it last longer. Avoid shriveled and discolored pumpkins by spraying them with a solution of Pure Castile Liquid Soap. Mix about a tablespoon of the liquid soap to about a quart of water. Spraythe solution on inside the walls of your pumpkins nose, eyes, and mouth to prevent moisture loss.
---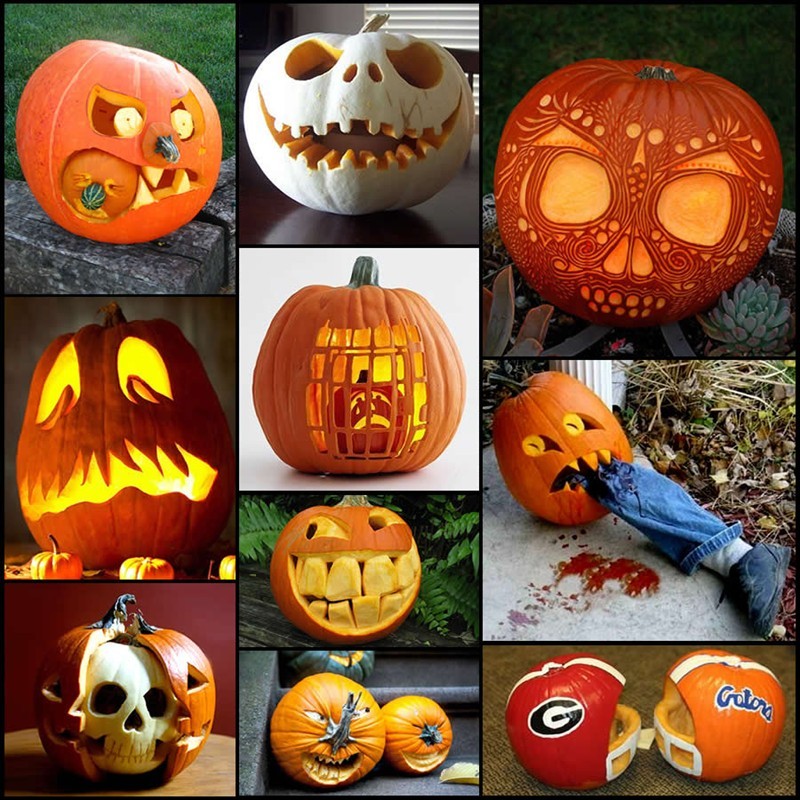 ---
9 - Pull out your knife! For pumpkin carving it's best to use a sharp, thin filet knife. Carefully start to carve your pumpkin along the lines you've drawn. If you're cutting simple shapes, Johnson suggests pushing the pieces out from the inside -- pushing them into the pumpkin causes breaks and tears.
10 - Try some other tools. To poke small holes, use an apple corer to punch through the pumpkin's rind. You just push the apple corer through and pull it out.
11 - Add some depth. Designs can be dazzling with some extra dimension. Scrape the surface skin off for a different level of light. You can get a lot of variation depending on how deep you make the cuts. For detailed etchings on the surface of your pumpkin, maybe try using an electric Dremel tool, linoleum knives, clay tools, or whittling wood carving knives to etch.
---
Other Helpful Tips
---
Remove pumpkin pulp in the kitchen sink for quick and easy cleanup -- no more soggy newspapers! Just remember, don't put the pulp in your garbage disposal. "It'll ruin it," Johnson says.
Save the seeds for roasting and eating or toss them outside for the birds! Or you can save some of the gutted seeds and pulp and let them hang out of mouth of your pumpkin for a fun and scary look.
You can also save the cut-out pieces and using toothpicks to stick them on different areas of the pumpkin's surface.
When handling your pumkin it is best to not grab it by the stem. Remember, the stem will serve as a handle to remove the lid when necessary.