When it comes to creating a landscape garden, the most difficult thing is often the starting point: selecting the first type of plant. Then, from there, companion plants are selected. The small landscape garden design below was designed using a specific feature plant. Use the design "as is," modify it to fit your unique garden space, or use it just for companion planting ideas.
Feature Plant Description
'Yultide' got its name because this is a camellia variety that is often seen in bloom around Christmas time. But this is a camellia that can bloom for up to 4 months in the garden, getting it's start much earlier while other flowering plants are starting to wind down for the year in early Fall. Like fireworks in fall, the bright red blooms with large, bright yellow stamens shooting out from the center start to appear as early as September and often continue all the way through Christmas. One of the most popular camellias of all time!
IMPORTANT: Always be sure to check USDA Plant Hardiness Zones for each plant to make sure it will grow in your zone. If a plant will not grow in your zone ask your local nursery and garden center professional to recommend a comparable plant.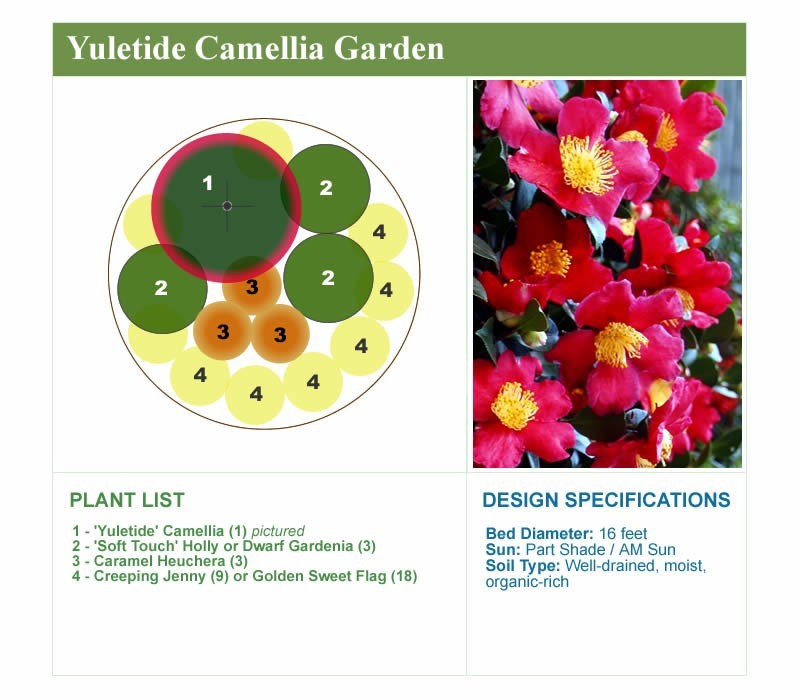 Plants Used in Design
Click on a plant below to find pictures and details on its Gardenality Plant File
'Yuletide' Camellia - Camellia sasanqua
'Soft Touch' Holly - Ilex crenata or Creeping Dwarf Gardenia - Gardenia jasminoides 'Radicans'
'Caramel' Heuchera - Heuchera villosa
Golden Creeping Jenny - Lysimachia nummularia 'Aurea' or Golden Sweet Flag - Acorus grameneus 'Ogon'