When it comes to creating a landscape garden plan, the most difficult thing is often the starting point: selecting the first type of plant. Then, from there, companion plants are selected. The small garden design below was designed using the Tea Olive (Osmanthus fragrans) as a the featured specimen plant. Use the design "as is" or modify it to fit your unique garden space.
Feature Plant Description
The cultivar 'Bonanza' produces the deepest fuschia-red flowers of any Camellia sasanqua. The gorgeous, double, "peony-form" flowers are produced in abundance over a long blooming period: from fall to mid-winter, depending on the weather. For a sasanqua, the flowers are quite large (2-3 inches). Elliptical, dark green, glossy leaves with toothed margins are held on thin stems alternately. The plants have a spreading, mounding habit to 5-6 feet in height with an equal width.
Design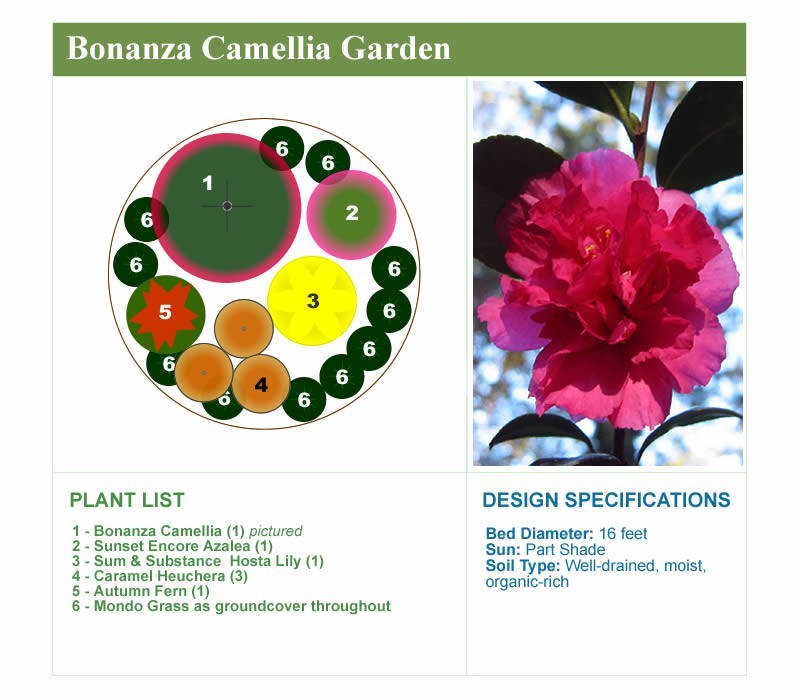 Plants Used in Design
Click on a plant below to find pictures and details on its Gardenality Plant File
1 - Bonanza Camellia
2 - Autumn Sunset Encore Azalea
3 - Sum & Substance Hosta Lily
4 - Caramel Heuchera (Coral Bells)
5 - Autumn Fern
6 - Mondo Grass as groundcover throughout
IMPORTANT: Always be sure to check USDA Plant Hardiness Zones for each plant to make sure it will grow in your zone. If a plant will not grow in your zone ask your local nursery and garden center professional to recommend a comparable plant.