When it comes to creating a perennial garden, the most difficult thing is often the starting point: selecting the first type of plant. Then, from there, companion plants are selected. The small garden design below was designed using 'Sweet Tea' Foamy Bells (heucherella) as a the featured plant. Use the design "as is" or modify it to fit your unique garden space.
Feature Plant Description
Without a doubt, 'Sweet Tea' is one of if not the most brilliantly colored, exciting Heucherella ever grown. Colorful Heucherella are nothing new, but the play of oranges and browns on the leaves of 'Sweet Tea' introduces an entirely new palette to the family. The leaf colors become more vibrant in summer heat and humidity. With Heuchera villosa in its parentage, 'Sweet Tea' stands up to heat in the South, keeping its densely layered, mounded form.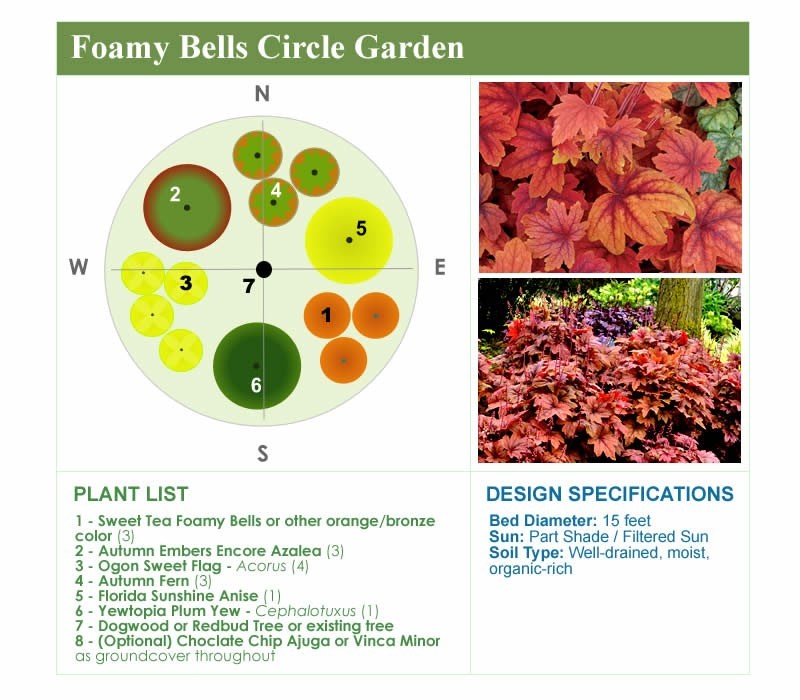 Plants Used in Design
Click on a plant below to find pictures and details on its Gardenality Plant File
1 - 'Sweet Tea' Foamy Bells - Heucherella
2 - 'Autumn Embers' Encore Azalea - Rhododendron hybrid
3 - Golden Sweet Flag - Acorus grammineus 'Ogon'
4 - Autumn Fern - Dryopteris erythrosora
5 - 'Florida Sunshine' Anise - Illicium
6 - 'Yewtopia' Plum Yew - Cephalotaxus harringtonia 'Yewtopia'
7 - Dogwood or Redbud tree or existing tree
8 - 'Chocolate Chip' Ajuga or Vinca Minor as groundcover throughout
IMPORTANT: Always be sure to check USDA Plant Hardiness Zones for each plant to make sure it will grow in your zone. If a plant will not grow in your zone ask your local nursery and garden center professional to recommend a comparable plant.