Creating a Water Feature
This simple but eye catching water feature uses a decorative watering can hung on a wrought iron pot hanger to produce the sound of splashing water as it pours water into a shallow clay pot. A small submersible water pump placed in the clay pot simply pumps water to the watering can circulating water back to the clay pot. Using a plastic container the same height as the clay pot can be placed in the center of the clay pot if planting the pot with some colorful annuals is desired. I used a small round black plastic trash can cut down to the same height as the clay pot. Filling the area between the center water basin and the sides of the clay pot with a good planting soil mix makes a nice small area to now grow small upright or cascading annuals. It is important that when using pots to plant in they have a drainage hole in the bottom to allow for good drainage. This hole can also be used as the exit hole for your pumps electrical cord and water line from the pump. When not using the pot to plant in the hole can be sealed with a silicone rubber sealer/adhesive to prevent any water from leaking out the bottom of the pottery.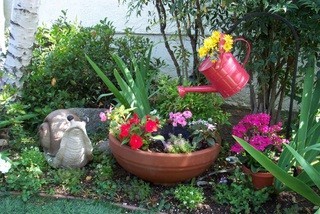 ---
This water feature utilizes an old galvanized bucket and hand water pump (pitcher style). Painting the bucket and pitcher style hand pump along with adding some rope handles helps to add color and additional detail to the garden area. Small submersible pump placed in bucket circulates water from bucket to pitcher style hand water pump.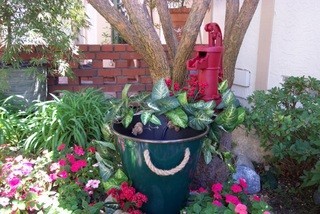 ---
Large or small ponds and fountains can be built by ones self or built by a qualified contractor. Pool and spa contractors, landscape contractors, and pool or pond supply companies are your best source for finding quality contractors needed to construct the type of water feature desired.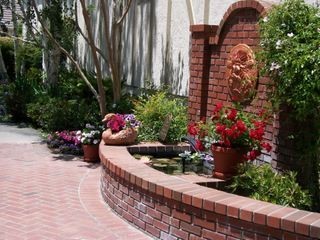 ---
This water feature utilizes tilted pottery to simply pour water into any pot or container. This feature was constructed using a large tilted pot and a 54 gallon Rubbermaid tub set in the ground. Rubbermaid tubs can be purchased in many sizes making them easy to fit into any size garden.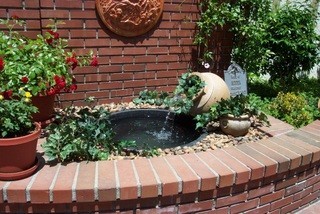 ---
Streams running over and around rocks can produce nice water sounds. Stream beds can be easily dug, lined with a heavy plastic sheeting, and covered with gravel. Disappearing stream kits with pumps can be used to supply water to the head of your stream and catch water that is recirculated at the end of the disappearing stream. These disappearing waterfall and stream kits can be purchased through many garden centers, pond supply companies, and sites online.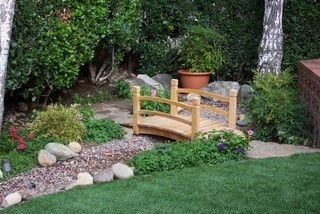 Rest is not idleness, relaxing in our gardens, listening to the sounds of the water, is by no means a waste of time.