Garden Water Features
Listen closely when relaxing in your garden, patio, or on your deck. The sounds of birds, crickets, frogs, water, wind, traffic noise, and many other sounds can be calming and some annoying. For many the sound of water is the most calming and one that can block out many of those annoying or intrusive sounds. In today's really stressful world filled with pollution and busy streets, it is hard to feel relaxed and calm. Water features are capable of providing soothing sounds and sights that can definitely help to decrease the intrusive sounds and ones daily stress.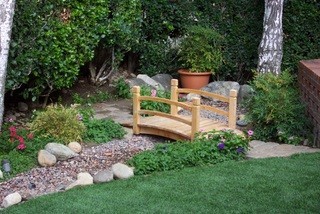 Water features can be as large as a pond with a waterfall, a disappearing stream, or fountain. Small water features can be as effective with only a small amount of water dropping from items such as a watering can, antique hand pump, or pot. Sounds of this water dropping from these items into a bucket or any water holding vessel as simple as a plastic lined hole in the ground can be as soothing as any produced by those features costing hundreds of dollars . Many have seen small table water features that have nothing but water flowing over a pile of stones arranged in a dish or bowel. Whatever size water feature you desire can be obtained at many garden centers, fountain and pottery stores, or online. When searching for a large or small water feature that would fit well in any size garden, patio, deck, or entry you will find the sizes and types (fountains, waterfalls, ponds, disappearing streams) mind boggling in their numbers and availability. Unfortunately most water features are expensive to purchase or have constructed to your specifications. I have found that many water features can not only be inexpensive, but fun to build, making them so much more rewarding when you construct them yourself. If you would like a beautiful water feature such as a pond with a waterfall it can be easily constructed using the 'How To Build A Garden Pond ', and 'Getting Started Building a Garden Pond' articles in Gardenality.
Creating your own water feature is not only less expensive, fun, and rewarding but it's originality will draw much attention by those visiting your garden. Using your imagination can produce not only aesthetic appeal for your landscape, garden, patio, deck, or entry, but draw attention to your water feature's calming sounds of splashing water. A great way to add Mother natures relaxing smell, sound, and appearance to your landscape or garden. Here are some benefits for adding a water feature to your landscape or gardens.
Adds aesthetic appeal.
Attracts attention as a focal point in your landscape or garden.
Relaxing. Provides soothing sights and sounds that help you relax and de-stress from a busy day. Lower your blood pressure and improve your physical and mental health as you enjoy the therapeutic effects of Mother Nature.
Can be designed to work in any size space.
Safe for children and pets.
Can be built in a day. Most small features can be build in an afternoon.
Low maintenance.
Adds to property value.
Incorporating the sound of water into your outdoor living space is as simple as obtaining a couple of water holding vessels and a submersible water pump. Hardware, garden centers, pool or pond supply stores that carry submersible water pumps can be helpful in determining the correct size pump for your project. This will be determined by the height the submersible pump has to push the water and the volume of water you want to circulate. If all you want is a small fountain it can be constructed using any container (tub, pot, bucket, etc.) with a submersible pump placed in the middle of the container. A small fountain can create a wonderful sound as the water falls splashing back into the container. Once you have determined the type of water feature you would like, have obtained the items you will need to construct it, completing it in an afternoon can easily be accomplished. You may want to build a water feature that adds both soothing water sounds and visual attractiveness but if just adding the sound of water to your garden is all that you desire this can simply be accomplished. A punctured bucket simply dropping water into another container hidden behind your gardens plant life can be constructed easily giving the sound of water without being seen. Adjusting the water flow, the strength of the water pump and the depth of the bowl will help to give you varying water sounds to enhance your garden.
Pictured in this article is a small formal pond with a fountain a disappearing stream and three small water features I created for my gardens. Hopefully they will help others to create ideas for water features they may want to add to their gardens, patios, decks, or other areas around their homes.