How to treat a Saddleback Caterpillar Sting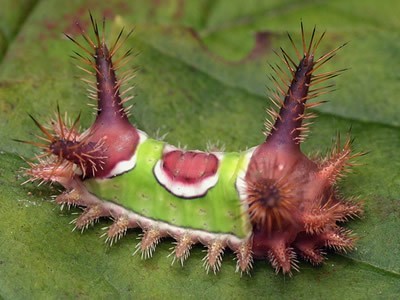 Sometime in August or September, without fail, someone on staff at Wilson Bros. Nursery (the nursery I work for in Georgia), comes flailing across the parking lot screaming that something has stung them...that there hand, arm or leg is on fire, and feels like it's been stuck with a dagger. They didn't see a wasp or hornet so don't know what it was. Upon closer examination of the crime scene, we usually find the critter pictured to the right hiding out under the leaf of a tree. Some folks might say: "It's a cute little fuzzy caterpillar you just want to pet." But, BEWARE!...this is one cute little monster that packs one monster of a painful sting!
While most folks think of bees, wasps, hornets, and scorpions as the only stinging insects, few are aware of this little caterpillar...that is until they touch it. Then they'll never forget! At least they'll have a good story tell...I've never heard of a sting from one of these caterpillars being fatal.
So, if you see one of the caterpillars in the picture above just don't touch it! The sting is immensely painful. When stung, you'll instantly feel a painful burning sensation on whatever part of your body that came into contact with the spines of the caterpillar. About 10 minutes later you might feel like you're being tasered with electric shocks from a taser gun. At this point, some folks get nausea and may start to throw up due to the pain, not the poison. The worst of the pain can last from 2 minutes to 2 hours or so, and residual effects for up to two days.
Description and habitat
The Saddleback Caterpillar measures about an inch long. It has hair-like venomous spines on four, larger, spike-like projections and many smaller ones projecting from the sides of its body. The "saddle" consists of an oval purplish-brown spot in the middle of a green patch on the back. The caterpillar is a general feeder and is found on many host plants including roses, trees, vegetables and other plants in late summer. Good thing is, they don't hang around long or do much damage, so I just leave them alone.
How to treat stings?
A rash usually breaks out where the spines of the caterpillar have attached themselves to your skin. Usually the site of contact turns red and swells like a bee sting. To remove the hair-like spines you can use transparent tape, stripping it repeatedly over the sting site. Washing the area thoroughly with soapy water will help to remove some of the venom. If there's swelling, use an ice pack and/or a baking soda poultice to reduce the pain and swelling. Aspirin and other pain relieving medications don't seem to help much. However, oral administration of antihistamines may help relieve itching and burning. Topical corticosteriods may reduce the intensity of inflammatory reaction. Desoximetasone gel applied twice daily to affected areas may also help. Prompt referral to and treatment by a physician should be made when severe reactions are evident. Very young, aged or unhealthy persons are more likely to suffer severe reaction symptoms.
Sting Prevention
The best method for preventing stings is simply to know what these caterpillars look like, and avoid them. And now you know! So, just keep a close eye out for them during August and maybe September. You'll usually find them hanging out on leaves or branches of trees. But, occasionally, they'll drop out of trees onto you or your clothing. If you find one crawling on your clothing or arm, the first "knee-jerk" reaction will be to brush it off with your hand. Wrong move! Use a stick or other object, or thick gloves, to flick or pick them off...or else be prepared to face the fire!
Make sure to let your children and other family members and friends know about these caterpillars. Show them a picture or simply forward them this article by email using the "Email" button located just above the top right of the article.
Control
As mentioned, I usually don't take measures to kill these caterpillars. They're only around for a short while and don't occur in sufficient numbers to do any real harm to plants. If the grandkids are coming over, sometimes I'll use a thick pair of gloves to remove the one's I can find and relocate them to more natural areas.
The days are long gone that I kill an insect just because I was taught to believe "all bugs are bad bugs." We can thank the big, greedy chemical companies for that negative, destructive programming. That being said, if the Saddleback Caterpillar shows up around areas where children will be playing, you can use liquid Sevin or Dipel Dust to eliminate them. Be sure to read the label, follow directions and safety precautions when using any chemical product.